See Me
February 19, 2014
What do they want from me? All day long they shout my name, criticize my work, drag me down. Every week I have to face those insults. What do they want me to do? Why can't they accept that I'm different? Why do they have to single me out? I've never done anything to them. But as I walk through the halls I hear the snickering. I feel the stares, like daggers in my back. I hold my breath, praying that I make it to class without stopping in the bathroom to cry. But I don't make it. I never do; they're waiting for me.
"Hey Lila." they taunt. I see the evil glints in their eyes. "OMG, is that you face, or are you turning into a bulldog?"
I fight the urge to run away. I fight the urge to bite back; but I'd always been taught to love others.
"And how sweet... Cinderella let you borrow her rags."
Knowing that the worst was yet to come, I turned and headed for the restroom. They others cackled behind me, shouting their insults. They leveled it up a notch, causing heads to turn. But did anyone rush to my side? No. Everyone else just giggled alongside the evil queens. And I ran... ran to the bathroom and sobbed. I couldn't take it anymore. Why did they have to make fun of me? ME? There were plenty of people at this school. Why do they have to pick on me? I want so bad for it to be someone else--anyone else.
Actually, why should it be? Why would I want anyone to feel like this? This isn't something anyone would deserve; so why would I willingly pass it on? I stare at my reflection. My eyes are still glinting from the tears. Maybe I'm not the best looking person out there, but I'm me. And that's all I need to be.
But how can I make everyone else see that? How can I make everyone see the person I see? I guess I can't. But I can let her shine through. The inner me doesn't cry. The inner me doesn't get upset when things don't go her way. The inner me sticks up for herself.
So out the door I march, tears wiped away, esteem levels overflowing. I'm not totally confident; the comments will still hurt. But not as much as hearing them laugh every time I run away. I know they won't stop pestering me. But I'm not going to give them the satisfaction of letting it hurt me. I will be brave.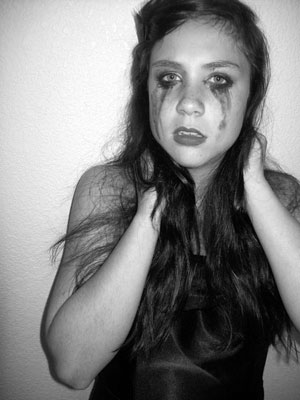 © Tiana D., Monument, CO