First Football Game of the Season
September 15, 2013
"Do I look like a Kent?" a new voice interrupted my empty laughter. I took in the details of my friend's new friend. Cute, I realized. Really cute. I tried to focus on answering his question. Hang on, what question was that again?
"What?" I asked dumbly.
"I said, 'Do I look like a Kent?' Do you think that could be my name? Because he keeps saying I look like one," Mysterious Cute Band Friend pointed to my friend, Brandon. I squinted.
"Yeah, I can see it..." I trailed off. His warm medium brown hair was the perfect length to run your fingers through, I thought. His eyes were an icy and exciting shade of blue. Yeah, I saw it, alright. Forget Barbie's Ken, I decided this guy was more of a Clark Kent. When he decided to try on Brandon's glasses and ask me how they looked, I told him as much.
"Very Clark Kent," I observed, trying to appear cool and unaffected. In reality, I was growing more and more nervous by the minute. It was around this time that I was attacked.
"Oomph." I staggered back, just barely registering that something had been launched at me. Further examination showed that someone had actually launched herself at me and into a bear-hug. Wonderful. I gasped and plastered a smile on my face to hide the slight confusion. Finally, I was let go of. Jessica, I realized. My teammate. Of course. I relaxed and smiled for real this time, moving with her to sit on the bottom bleachers, away from where I'd previously been standing in front of the boys.
"So how do you know Joey?" her voice was happy, light, and sounded pretty nonchalant. I thought for a moment and figured out that she must have been talking about Mr. Clark Kent.
"I don't. I just met him, actually," I replied.
"He's my ex." Her tone remained light.
"Oh, that's awkward..." I said.
"No, not really. We're good friends," she used that moment to demonstrate as much by getting up and hugging Joey. I looked away quickly in an attempt to prevent any future awkwardness and, with a sigh, returned to listening to Brandon's silly Pokemon pick up lines. The world is such a weird place, I mused later that night as I lay awake in bed. A very, very weird place.
My last thought before drifting to sleep was about seeing Joey again.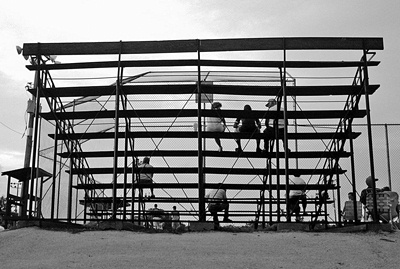 © Katie C., El Dorado Springs, MO