Cutting Butterflies
June 28, 2013
Once upon a time, there dwelled a young, lonely princess. Despite for her abundance of material possessions and beautiful gowns, she lacked friends and constantly longed for someone to talk to. Every afternoon, she would play alone in the garden behind her magnificent castle.
One day, a butterfly flew into the garden and settled itself on a blooming daisy. The princess, delighted to have a visitor, bounded to her guest and pleaded, "Excuse me, Sir Butterfly, would you like to play with me?"
"Absolutely," replied the creature.
They played tag and hide and go seek. They scoured the entire garden for the prettiest flower together. The princess has never had so much fun in her entire life.
Finally, the sun began to set.
"Now I must leave," said the butterfly. "For a witch has cast a wicked curse upon me, and I am to die a horrible death tomorrow morning. This shall be my last night in this life."
The princess, who had already grown to love the butterfly dearly, began to cry hysterically.
The butterfly, who loved the princess in return and felt great sympathy for her, offered an alternative. "What if I embed myself in your wrist?" he suggested. "Then, I shall be with you wherever you go."
With the princesses agreement, the butterfly melted into her wrist.
Although the princess was disappointed to no longer have a playmate, she found solace in the fact that he was still close to her, whether it be embedded on her body or her heart.
Years after the princess lost her one and only friend, she began to feel desperately lonely. None of the other princesses would speak to her, no prince wanted to have her as their wife...even her parents refused to speak to her at times due to their embarrassment of their daughter being such an outcast.
Finally, the princess could handle the torment no longer. She stole a dagger from one of the royal guards and sliced open her wrist, watching the blood flow from her wrist and the color draining from the butterfly.
Much to the princesses alarm, a voice sounded from behind her.
"Dear little princess, why would you do such a thing to your precious butterfly?"
The princess turned around to see none other than her fairy god mother, whom she had not met before this moment.
"Fairy god mother! I am terribly sorry. I only meant to temporarily relieve my emotional heartbreak with physical pain. I never dreamed my poor butterfly would suffer."
With a wave of her wand, the fairy god mother restored the mark of the butterfly, though he was surrounded by scars. The princess thanked her, and now, every time the princess longs to slice her skin, she looks sorrowfully at her scarred butterfly and remembers that her life may be unkempt, but it can still be beautiful as a butterfly.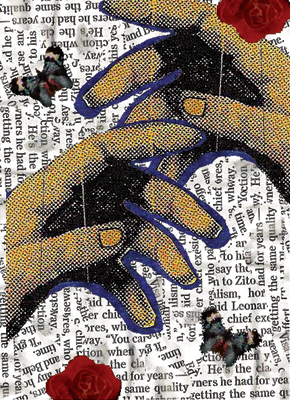 © Christine S., Arlington, VA