The Moon Knows
October 29, 2008
The moon knows. Because the moon saw. But the moon is loyal and doesn't speak out what only she witnesses. And when this moon, glistening so high up above, starts to slip away, vanishing steadily, bit by bit, leaving in it's place a bright blue morning sky, well then…

"Daddy" and mom will also know. The crisp, white paper left on my deserted bed will take charge, finally letting them on a month's worth of planning that's now come to action. My hasty writing is blunt and shouts out the truth, that tonight, while they lay there sleeping, I've ran out under the dark sky, not looking, leaving all that was behind, and escaping all I no longer accept to live by. Mom will cry, dad will swear, then grow serious and together they'll ponder where they went wrong. No where. But tonight, and in the days to follow, it's not about them, it's finally about me.

The night breeze is cold on my cheeks, and in the air only the faint chirping of crickets and soft echo of my own footsteps is audible. In the distance I can make out the barely visible silhouette of a car, David waiting inside, the engine running. The dead, autumn leaves crunch under my feet as I approach the vehicle. I climb into the car and neither David nor I say a word, the lingering silence speaks of a fear of the new beginning we're in search of and the excitement of at last finding it. We head west, destination unknown. Where to? Where the wind takes us…

Life at home was a masquerade ball, each one of us hiding our true identities, behaving as we thought the other one expected us to. To my parents, I'm a complete stranger. They kept me shut away, a list of rules to live by that'd guaranteed perfection for their little girl. Never understood I wasn't made of glass and wouldn't believe I was capable of fighting my own battles. Everyday was an act for me, every good grade and every demonstration of affection towards them had no meaning, a total façade my parents seemed to swallow whole. I hid behind a mask, similar to theirs of perfect parents. Laying underneath a curious girl, striving to see the world, willing to make and learn from her own mistakes, and an immense hunger for adventure and fun. Only wanted what was best for me, they said. What about what I wanted, or what to do with the burning desire to be someone else completely different than who I was?

Then I met David. He brought out the best in me and could make me laugh as I didn't think I could. I had few friends, and those I did seemed as fake as life at home. With David, though, it was different. I was surprised to discover I could talk to him like I couldn't anyone else. David had a drunk father who abused him almost daily. And when we spoke of home, we spoke of a future together far away from it.

I've fallen for David harder then anything I've ever felt for any boy. That I believe we'll be in love forever, no, dreams are meant for sleeping and I don't intend on lying to myself. I don't know how long a love like this can last, but, meanwhile, it's all I need.

I glance into the horizon. The sky's turned a beautiful pink, purple with the rising of the sun. I glance at David who grins back at me. Butterflies seem to take over my stomach. I throw my head back and laugh. Home's been left behind.

One day, in the nearing future, we're bound to be caught. I know it in my gut though, it's all worth it, because I know life after this will never be the same for me. How they find me and where I'll be that given moment remains a mystery that lays undiscovered in the dark road the future is. However this adventure I take on today comes to an end, I'll know the moon won't have told. Because the moon is loyal and doesn't speak out what only she witnesses.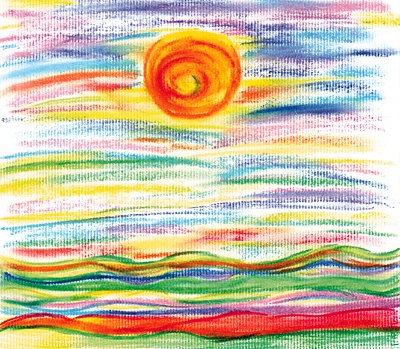 © Anonymous