Theme.
January 12, 2012
"Write me a theme about anything, anything, I really don't care. This quarter ends in two days and this class has only submitted two out of the tree required themes, do you know what that means? That you will have to retake this course."

Papers being passed back. I sat there, drawing.

"Did you even hear what I said Jade?" The wrinkled eyes of an adult so disapproving of me glared down.

"Something about a theme, something about failing, something about whatever." I looked down at the college ruled blank paper that fell in my frail lap.

"Look, you're going to fail your freshman year if you don't write this theme. Okay? You have to write it. I know you have that creative talent in you. You can do it. Bring it home, write it, bring it back friday." She walked away.

I stared at the paper that determined wether or not I'd get this years credits. Its weird, you know, imagining your whole future based on tiny little invisible points, credits.

It's also weird thinking that a teacher you barely know thinks you're creative.

I put the paper away, I heard the end of the day bell ring, and walked out.

Once I got home, I started it like this:
"Write me a theme."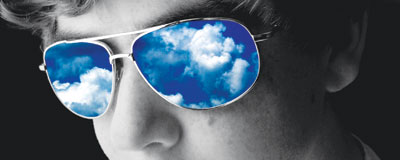 © Joseph B., Mesquite, TX