Happily Ever After
March 8, 2011
"Tell me a story." I whisper from under the covers.

His beautiful face smiles down at me, but I can see the layers of concern and worry and just general upset written all over his perfect skin. But he smiles anyway. Being strong for me, always just holding on enough for me.

"Ok. Once upon a time…"

I giggle. "Uh-oh. This sounds like another fairytale."

He just smiled again. "Once upon a time there was a beautiful princess and she lived in a huge castle and guys from miles and miles around came to look at her and admire her beauty."

"Inner beauty." I say. "Because outwardly I'm sure she wasn't a prize blonde."

"Inner and outer." He replies. "She was beautiful because she was herself. So every guy that saw her wanted to marry her right away. But there were so many she had a hard time choosing."

"Not true!" I laugh. "There was one who was very special since the moment she saw him and she just knew he was the one."

"Yes, there was one very, very ugly prince who loved the princess with all his heart and with everything he had."

"He was not ugly." I slap his arm. He barely felt it.

"He was. But for some reason the princess loved him. He had to try extra hard to get her attention though, since there were so many more handsome guys who were just as willing."

"Lies." I touch his face. "No one was more handsome than the prince."

"Whose telling the story here?" He asks with a smirk.

"Sorry, sorry…continue." I lay back again and stared up at him expectantly.

"Well, one day, the prince came to the castle and no one was outside. He asked the guard why and he said that the princess was very sick and no one knew if she would get better, so they had all moved on to another beautiful princess down the road and that he should do the same." He is in pain.

"The end?" I am back down to a whisper. "You don't have to go on anymore. It's hurting you."

He feels the meaning behind my words. "That night, the prince decided to climb the wall up into her tower because he had to ask her something, one last thing before he could ever possibly move on."

"Yes?" I ask, barely even hearing it myself. I felt the tears begin to come. I knew it would end eventually. So this would be it. No happily ever after for the girl with cancer. For the girl who could barely live a normal life. For the girl whose life was ticking away.

"He stood beside the princess' bed while she was crying because she was scared."

"What's the question?" I ask wanting to get it over with. The fairytale had turned more into a nightmare.

"The prince was scared to but he gathered up his courage and knelt beside the bed." He kneels down. "He finally managed to ask, 'Will you marry me?'" He holds out a pretty ring. "And the princess says…"

I can barely find my voice. "Yes."

He looks at me for a long time. "Soon they were married and the prince had never been more happy in his entire life."

"And the princess was totally and completely in love."

"And they lived happily ever after."

"The end." He's under the covers with me now, snuggling, holding me tight.

"Who says there has to be an end?" He asks. "Who says I cant hold you like this forever."

And I fall asleep in his arms.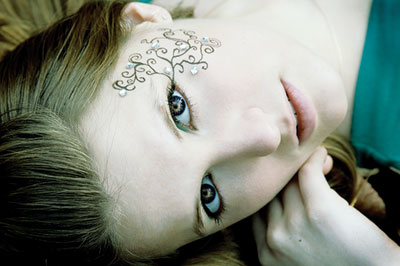 © Michelle B., Blairsville, GA