"I love you"
February 1, 2011
I love you so much, words cannot explain. My love for you is true, like the big ocean blue. I'd tell you I love you a million times or more, I promised you this.

You promised me the same thing.

It was intense puppy love. Teenager hormones pushing us past the limits. It felt so good, so real. It all was so fine up til yesterday.

She was there, ugh I hated her. I hated her so much, she threw her self at you. You just stood there to catch her.
No, not catch her.
To grab her, and push her lips onto yours.

"Hey Jess, what are you doing here?" My friend Trina asked while grabbing a book off of the libary self. "Trying to study for my math test, and later I get to Trey's house! Oh I miss him.." I said while drawing hearts with me and Trey's names in them. "Awww! You two are so good together." "I know right! The only one who doesn't agree is Linda.. That W****!" I snorted. Later on I would be at Trey's house.

As soon as I was done at the libary I drove to Trey's house.

I Stepped out of the car into the still night air. Snow crunched under my boats as I walked to the door of his house... Everything seemed intensely still. Too still. I knocked on the door. Nothing happened. I turned the knob and walked inside. Thats when I saw it.

Him and her making out intensely, she dropped her clothes.

So did he.

They did it, right in front of me.

Pain hit me all at once, fear rushing down my vains, I was clueless. I had no idea what to do. I screamed and call them cuss names. I shouted "NO GOOD W*****!" as I ran to my car while crying.


I swore I heard a whisper, a soft voice, speak to me:
"I love you."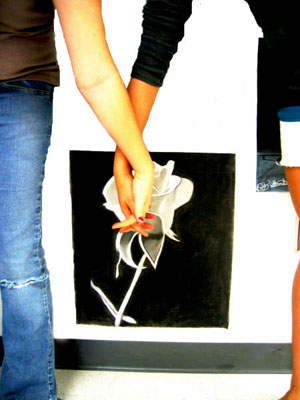 © Josie G., Wilmot, SD