A Brisk Tuesday Morning
January 29, 2011
6:25 on a brisk Tuesday morning.


She's headed to work, walking quickly in the crisp October air. She can't really stand to be late again; her new boss is just so absurdly obsessed with punctuality. Really, the things she put up with in this job. Why, she barely had time to apply her make up this morning before coming out here!


He's heading to the bus stop, rushing so he doesn't miss it. Last time he missed it, and everything was ruined. That simply can't happen again.


Everyone seems to be in such a hurry these days.




6:28 on a brisk Tuesday morning.


She arrives at the corner with her head down, fruitlessly trying to block the wind from reaching the smooth, fair skin of her face. She shivers as her long blond hair blows everywhere, and suddenly regrets not pinning it up. How could she forget something like that?


He sits on the cold bench, pulling his scarf tighter around his neck.


You can't blame them; after all, it's quite cold outside.




6:31 on a brisk Tuesday morning.


She checks her watch, clicking her tall black high heels in impatience. Where is that bus? Already a minute late and she simply didn't have a minute to spare.


He glances around and listens. Was that the distant roar of a bus engine? Or was it just him?


It would seem the bus is late.




6:35 on a brisk Tuesday morning.


She considers leaving, calling a cab or some other form of transportation. She really can't be late, not today. Tuesday was the day the boss always came in early. Why Tuesday? Well, heck if she knew, she thought, clucking her tongue with lack of patience.


He shifts on the bench, glancing over and thinking about commenting on the obnoxious way she is clicking those shoes together and clucking her tongue, as if her whole being is trying to create some melody to impatience here on this cold morning.


Warm breath hangs misty in the air, and then disappears.




6:36 on a brisk Tuesday morning.


That's it. She's calling a cab. Pulling out her phone, a shiny and sleek new model, she presses her slender, manicured fingernails against the keys. At the same moment she noticed the time. Shoot. She's going to be late again.


Now.


It's amazing how few people are actually awake at six thirty in the morning.



6:37 on a brisk Tuesday morning.


She doesn't know what hit her. Didn't know.


Until she sees him, and he's holding the gun, and he's got a sort of unreadable expression on his face, like maybe he's satisfied or maybe he's sad, or maybe he's a mixture of a lot of things.


He really is a mixture of a lot of things.



7:01 on a bloody Tuesday morning.


It's surprising; honestly, how long it takes for someone to notice the woman's body, basking in the pool of blood at the corner bus stop.


She really can't be late.




8:19 on a dark Sunday mourning.


He sits next to the aisle, glancing over at the dark coffin at the front of the church. Then his gaze turns to the girl sitting next to him, crying and weeping, her blond hair a mess. She reminded him of someone, though he couldn't say who. Something is familiar about her high heels, as if he can almost hear them clicking in tune with a clucking tongue. And her manicured hands, held against her watery eyes, which stream makeup down her soft, fair cheeks.


And he smiles, already planning his next trip to the bus stop on a brisk, Tuesday morning.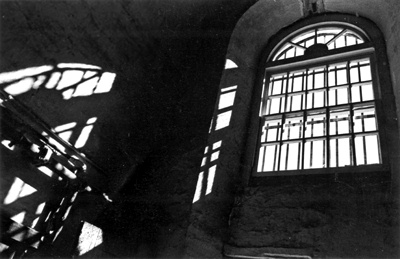 © Alice Y., Basking Ridge, NJ