The Marina
December 5, 2010
We flew high on the giant swing, rocking back and forth. My grandfather smiled at my sister and I, the wind making our cheeks red and whipping our hair back from our faces. It was a swing with benches of dark wood on either side, a swing where the momentum of your feet pushing backwards and forwards made you go faster. Being on that swing never failed to give me a fluttery feeling in my stomach, almost pushing me to the limit, but always providing a thrill I couldn't explain as anything but fun. Laughing, smiling, we dragged the toes of our sneakers against the moist dirt beneath us, slowing ourselves down and eventually coming to a stop. My Grandfather, whom we called Papa, helped us across the mud puddles dotting the grass we had come accustomed to, and squeezed our hands tightly in his bigger ones. We walked along the Victorian sea wall in the small village of Oak Bay, a place I had known since early childhood, our tuques pulled over our ears. It felt like home, and the sights and sounds were comforting as well as nostalgic. My eyes raked over the beaches below us, at low tide, expanses of soft sand, tide pools, and old ragged pieces of driftwood dotting it's surface. Along the water's edge, a long way away from us, waves broke against rocks covered in green muck. Perfectly preserved clam shells, white and dainty, were pressed into the wet sand, and the smell of sea salt drying in the air rose towards us. They were beaches whose beauty and I had seen a million times, but never got over. We walked along the beaches, pressed right up against the railing of the sea wall until we reached the Marina, where we entered the gift shop and looked at the toys and souvenirs as Papa greeted the shop keeper merrily, like an old friend. Everyone in Oak Bay knew Captain Barry Jackson. We bought frozen bags of chopped up fish, which made my sister and I both laugh as well as stick our tongues out in disgust, and then tottered down to the docks, where we called to our seal friends. There was no doubt in our minds that they would come, they always did, not able to deny a free meal. Before we were born, Papa had named them Chocolate and Cocoa for their colouring, and they were known by these names since. It was what everyone called them. They swam up to the edge of the dock like dogs, wild, but having grown used to tourists and locals feeding them fish and cooing in enjoyment as they dove and glided just in front of them. We tossed our fish into the water, trying not to handle it too much, and watched as they caught it, swam for it, their fattened white bellies full to bursting point. We knelt by the edge of the dock long after our bags of fish were empty, spectators to their beautiful water ballet. When they poked the tops of their heads out of the harbour water, I thought they looked almost human, like mermaids. Their dark eyes, smooth and shiny fur, and slits for nostrils were almost eerie.
When we both started to get cold, we headed back up and into the small cafe adjacent to the gift shop, where the people behind the counter also knew Papa. My sister and I sat in one of the window seats with him, our feet not touching the ground, and listened as he told us stories of his ocean adventures, pointing out the window to his small speedboat moored to one of the docks. My interest was captured for a moment by the business of boat owners and sailors walking up and down the docks outside the window, chatting, admiring other boats, or working on their own pride and joy. Papa told us he used to have a bigger boat, a grand wooden one, but he had sold it recently to let someone else enjoy it. I imagined with difficulty what it would look like tied up beside his smaller, more modern vessel. Sipping my hot chocolate, I smiled up into his care worn face in satisfaction, the one I knew so well, enjoying my time with him. The best parts about our trips to our Grandparents house were the walks we took with Papa. Sometimes we would go to the "Crow spot", a tiny bench on top of hill that seemed huge at the time, where crows gathered, and looked at the view of the ocean. Sometimes we would go into the village and browse in the secondhand book shop, or stop by Roger's Chocolates, the best chocolate store I knew of. But most times, we went down to the Marina. I returned myself to the conversation, and listened with amusement as my little sister, beside me, asked him silly questions, to which he responded with his wheezy, breathy laugh that always warmed my insides.
On the way back, we held his hands again, and he asked me to tell him a story I was working on. I told him about the one I had thought up earlier, about a dinosaur who got left out of a game his friends were playing. He asked my sister what art projects she was working on, and she told him about the drawing she was doing. He smiled and told us he couldn't wait to see the masterpieces, and I decided I would give the story to him when it was finished. He let us walk through his neighbor's garden on the way home, as always. This was another one of my favourite parts of these walks. The neighbor was a beekeeper, and the row after row of wooden hives made me both curious and wary. We picked sweet figs from the his plentiful trees, with the man's permission, Papa lifting us onto his shoulders to reach the good branches. We brought them back inside and showed our parents and our grandmother, or Nana as we called her. My mother shook her head as she saw Papa empty his pockets of sweet wrappers and hastily stow them into the garbage. She asked him knowingly if he had bought us sweets again, and he grinned back sheepishly, nodding.
He was a captain of boats, a figure people in his neighborhood regarded with respect. Someone you could always count on to make you smile. His rosy cheeks, kind eyes and big belly were things he wouldn't be the same without. He was a superhero, a loyal and honest person, and he was my grandfather. He gave me some of my happiest childhood memories, and I decided a story about an excluded dinosaur wasn't enough to give back. So this is the story you would have asked me about if you were still here, Papa, this one is yours. Although it really isn't a story at all, because every word of it is true.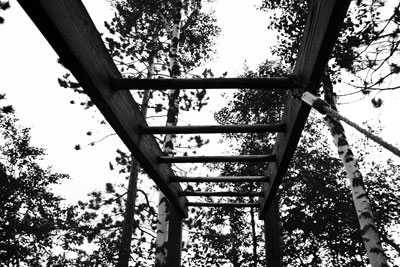 © Sara F., Cannon Falls, MN