Not Pretty Enough
June 21, 2010
Hick up that dress all the way now, suck it in so it will actually zipper this time. I hope it fits, God I hope it fits. It fits, but I can barely breathe. Oh well, don't think squeezing into a dress for a couple of hours will damage me too much.

Now time to paint my face. Some cover-up: okay, a lot of cover-up, to cover-up those ugly imperfections dotting my face. Some eye shadow here, some eyeliner there. Perfect.

I look in the mirror and try to feel satisfied. I have a beautiful dress, albeit a much bigger size than I was hoping for. My make-up and hair was flawless. I had beautiful jewelry custom made by my mother's friend to match my dress. I even had shoes my mother had decorated to match perfectly as well as a flower in my hair. Then I remembered I was going alone.

Not completely alone, no, but without a date. I was going with my friends, both of whom had dates. Talk about a third wheel. My one friend said that we would be dates, because she would end up ditching hers. But at least she has a date. I don't even have that. I will be taking pictures alone and with my mother, my sisters. Then my grandmother will say, "Where's your date?" And I will be thinking in my head, "Oh shut up b*****, like you even care." No corsage either, which is like a blinking light saying, "Look at that loser, she couldn't even get a date!"

Why couldn't I get a date? No idea. Maybe because I am loser. Maybe because I am not pretty enough. Oh wait, I did have a date. Some guy I asked said yes then changed his mind a week before prom. Now I am going alone. What a jack***. Like anyone would have asked him anyway. Ouch, that was mean, but he deserved it. A week before prom, are you kidding me? There was no way I would ever get a date.

All those other girls at prom will have dates, they will dance provocatively with them, they will slow dance with them, and have fun with them. I will have fun with my friends, I guess. No, I will have fun with them. At least I will try. But the whole time, in the corner of my mind, all I will be thinking about is why I can't get a date.

Is it too much to ask for someone to ask me? Why do all those other girls get roses in their lockers, or stuff written on their car? I didn't even get an invitation! I had to ask someone myself, and even he rejected me at the end.

Sometimes I just hate myself. I am not pretty enough, not skinny enough, not perfect enough. I am that girl in the back of the classroom quietly reading a book, silently wishing she had some friends. My mom always told me "in order to be a friend, you have to be a friend." I have never found something so difficult. And guys, forget about it. I am a hopeless case. My mom always says that dating in high school doesn't matter; it's just practice for the real world. But it does matter when you're the only one left alone.

I will have fun, I will try. I will try not to think that I am the only one alone. I will try to have fun with my friends. By the time I get there, I will forget that I even wanted a date. My friends and I will eat, laugh, dance together during slow songs, make fun of all the other people dancing like they were in a club. Then we would go to after prom until seven in the morning. After that we would all go to the beach and have an amazing time.

But even the thought of that couldn't dispel the weight on my chest, the feeling that I was unloved, alone.

Okay, now a little hairspray on this one piece of hair that is a little out of place. Some extra lipstick here. Hike up that dress a little, make sure it doesn't fall down. Put on the too-high shoes and make sure I don't trip down the stairs this time. Look in the mirror, satisfied, I guess. Not pretty enough, but good enough for me.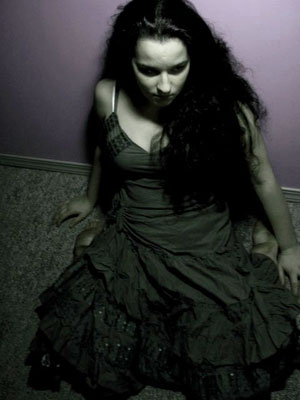 © Brianna D., Everson, WA