David
November 7, 2009
David

Watching them do anything possible to avoid walking past me in the halls as if I had a disease, whispers back and forth. Passing them in the halls watching there eyes that are full of the early morning sleep go to deer caught in headlights. Knowing everything wondering why the hell they are whispering. They know that I know…obviously! It's me the one they are talking about.

For the first couple of days walking down the halls was hell and I wanted to curl up and die, now I ignore most of it accept a lot of it as an opinion and shrug the rest of it off. They have the right to talk … I mean I imagine that I would too if I saw someone go from cheer captain and leader of every extra curricular activity, down to…this. Some found it amusing others funny but teachers and friends disappointed. I never understood why they would be disappointed it wasn't like I was dropping out of school I am continuing on with my high school education.

I finally reach my locker where I hope to find maybe an empty locker. Nope! No such luck I pull the door open and watch hundreds and I mean hundreds of notes to fall to the floor. Without even looking at them I know exactly what they say. I grab my books pick up the notes and throw them away. Not even caring anymore I found that the bigger smile that I have on my face the more it bugged them.

I go to my classes my head in the clouds not thinking of everyone staring at me. Just wanting nothing more than to be home. While in one of my AP classes I feel someone slip a note into my pocket. I look back behind me to see a fairly decent looking guy smiling. I scowl turn around to face the front of my class and crumple the note when I hear a soft voice in my ear tell me to read it. I look back he grins and nods to the note.
I begin to unfold the note revealing the bright red writing. I slowly read through the note astonished of what it says.

"As they do not see the beauty that I saw my first day here."





-David

I turn back to see him grinning from ear to ear.

After class he offered me a ride home as he walked me to my locker. It felt good to have someone there. Not always alone. I accepted the offer and followed him to his car. He drove me home, walked me into the house introduced himself to my mother reassuring her that he was good kid and a safe driver. My mother instantly fell in love with him when he showed her his ID, and offered him to dinner. Because it was always just my mother, Hailey, and I there was no awkwardness of the father figure. We sat around the table talked about where he had come from, why here and how old he was what his family did. You know the basics. Surprisingly little sister Hailey stained silent the entire time when he asked her what grade she was in she blushed and ran from the table. This made us all giggle. We continued talking late into the night. He left around eleven giving my mother a hug and kissed me on the top of my head. My mother said nothing after he left, just kissed on the cheek telling me good night.

Leaving me standing there in the cool empty kitchen to do nothing but collect my thought about my day. Knowing that this guy couldn't be serous, I pushed it all out of my head knowing he would never admit to any of it tomorrow.

When I was waking up expecting the usual dreadful hectic scene of our mornings
I was surprised to go down the stairs to see everyone home in there PJ's. This was odd to see when I am used to seeing my mother in her business suit ready to take on the day. Today she was holding her coffee cup with a death grip and watching Hailey color on the island. I look at my mother in surprise knowing that something was on her mind. She nods to me; this means I will tell you in the car. I quickly go back to my room and find an outfit that actually made me looks good, believe me its harder than it looks. As I start to open my door I hear a third voice in the kitchen. A male voice? Thinking that it's probably our neighbor I proceed to go down to the kitchen. When entering the kitchen I am shocked and appalled at what I find standing in my kitchen. Him, David. He looks at me and smile. I look at my mom for some explanation only to find her smiling and telling me that David was here to pick me up. I look back at her to make sure that it was okay. I could obviously see that it was okay as she reassured me that we would talk later that night.

As we were walking out of the house, he commented on telling me how beautiful I looked not wanting to come off as rude I say thank you.

Sitting in the passenger seat, feeling him gaze at my stomach. It was kind of normal for me. I am used to it but I felt kind of paranoid about my appearance as I sat with him. He saw me catch him staring and quickly looked away just like everyone else did. I giggle.

"What's so funny?" He sates coolly.

"Well the fact that you are just staring at my stomach instead of asking me. It's funny to me because it happens all the time. That's all nothing against you."

"Oh, well then I am asking."

"Finally! Well you can't tell me that you just thought that it was fat. Of course you have seen a pregnant girl before."

"Well I guess that it's just really surprising to me. You are so . . . gorgeous and smart. I would never see you as a girl to throw her life away."

"Throw my life away?!?"

"No I didn't mean to offend you, I am sorry I didn't mean it like that."

"Ya, well there isn't really any heart break behind this story, well in a way there is. Okay well the father of my baby was . . . a really good guy and we had been dating for two years. So when we finally decided to. .. Do it I thought that it was my future staring back at me telling me that he loved me. Well as we announced to my mother that I was pregnant she wasn't upset she knew that he was an amazing guy that would stand with me through it all. She thought that we should have waited but you know how that goes. Anyways so recently he decided that if we were going to keep the child we needed to get our life together so he left to go looking for a job with his uncle in construction on new developing homes. . . ."

"And . . . ?"

"I haven't seen him since. Got a message on my cell telling me that he loved me and our baby and that he would be back but no time soon. He told me not to wait by the phone but that he was sorry and, wishes he could tell me why."

"Well at least you aren't waiting for him."
I look up to see him at my door I hadn't realized that we were at the school. He placed his hand on my cheek wiping away my tears. Pulling me out of the car and hugging me, tight and long. The words that he whispered in my ear I can still remember.

"None deserves what you are going through. But you must understand that you are not alone. The one who truly loves you may be standing right before your eyes you must open your heart and your eyes and let him in. as hard as it may be."


* * *


When my beautiful little Annabelle Mia Francine (her middle name after me) was born David was there.

When Annabelle turned one David was there.

When Annabelle turned five and wanted to go to school David was there to help me through taking her.

When she had her first ballet recital and she got stage fright and ran off stage David was there to pick her up and hold her and convince her that Swan Lake wasn't the same with out her and they needed her. And I watched her get back up on the stage and finish strong.

When she had her first middle school dance David was there.

When she got her first boy friend David was there to threaten him.

When she walked through the door because a stupid boy crushed her heart he was the one who chased him down the street.

When Anthony came back to repair his relationship with his daughter David was the to tell him goodbye and fight with all he had when I was too weak to do so.

When I was diagnosed with cancer David was there.

When they gave me six months to live he made sure those were the best six months of my life.

When I was on my last week to live he was there to reassure me that I was going to pull through even though I never did.

When I passed away David was the one who took care of Annabelle.


And I died knowing that she would grow up to be an amazing young women with all the self respect in the world and a wonderful father the only one that she ever heard of. . . David.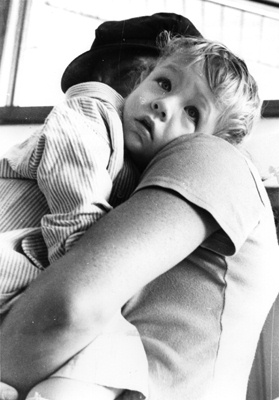 © Ali D., Cincinatti, OH