Scar--Part Two
September 16, 2009
"Well, she has the right to know." I said.

"She does, but she doesn't understand. Don't make her worry."

"Why do you always take her side? Don't you realize that by keeping her away from everything you're just pulling her down from the world? She's going to grow up one day, you know."

"Young lady, don't talk to me like that. Now go to the hospital."

"Why can't you?"

"Because I have to take Rosie to the movies, and she's your mother.

"Well, she's her mom too. And she's your wife."

"Not another word, Roberta."

I took my things in my room and went out of the house, glad to breathe in the fresh air. When I reached the hospital it was pouring rain. I went into the room and saw my mom staring at the ceiling.

"What are you doing?"

"Roberta, "she hissed, "I'm going to die tonight."

I couldn't think of anything to say. "Why would you say that?"

"I just know. Where are they?"

"Movies."

I think the sparkles in her eyes were something like tears. I looked around uncomfortably and then asked her if she ate. She said no so I ordered food for her.

"Thank you, Roberta...and I'm sorry."

"For what?" I asked. But I knew what she was sorry for. It sure took her a hell lot of time to say it. But I was grateful that she finally did.

"For the ways I treated you. I don't know what caused me to do so, but I guess it's because right when you were born your grandfather died. And I blamed you for it."

"You shouldn't have."

"I know that now," she smiled at me and continued, "You know who your real friends and family are when you are at your deathbed. While I'm dying your dad and sister are at a movie and having fun. But you're by my side. You must hate me."

I do, I thought, but of course I didn't say anything. None of us said anything until the food came and I placed the tray on her portable table. It was funny how after all that my mom said ––– all those heart-warming things ––– I still hated her. I guess just saying sorry before you're dead doesn't really make it up.

She told me to eat too and I didn't hesitate because I could hear my stomach grumbling. The food was good; there were baked potatoes, chicken wings and soup. I let her eat the soup because there wasn't enough to share. For the first time in my life, I felt that she was actually my mother, and I was actually her daughter.

I was going to clean up but she held my hand for me to stay. The rain outside was heavy and though it was only seven, the sky was pitch black. She told me to get a paper and pen out to write down her will. I told her she was not going to die (not that I didn't want her to, or didn't not want her to), but she was so stubborn that I gave in. She said that she will leave one forth her money to dad, one forth money to various relatives and friends, another forth for me ––– a whole fourth of her large income for me! I looked at her and she just told me to keep writing. The rest of the money will go to cancer research, which seemed pretty reasonable.

"What about Rosemary?" I asked.

"Give her all my jewelleries." That was a reasonable choice. I noticed that her breath was getting shorter even though she had an oxygen mask. I gave her the paper to sign, and she did with shaking hands.

"Now I will die almost satisfied." She said. I didn't ask her what she meant be almost; because I knew she wished dad and Rosemary were there.

"I'll call them to come," I offered.

"No need to make them come when they'll just see my numb body."

I felt that I was getting to know my mother, and she didn't seem so despicable. But I still could not forgive her. She closed her eyes a bit and told me to hold her hand. I did with extreme awkwardness. I wasn't used to touching my mother; I wasn't used to touching anyone really.

"If I could do it again, I swear to god I will be a better mother to you." She whispered. A buzzing silence followed, and then I noticed that the lines on the cardiac monitor came into a straight green line. I held my breath for a moment, then released into a big sigh. I let go of my mother's hand and called the nurse. I did not fidget, or jumped around or panicked. After all, wasn't I the one who said that if my mom died, I wouldn't have cared?

Then what was that acute pain in me? When they carried away the body, I felt something being pulled out of me, like some kind of loss, like a piece gone. I thought I hated her, then why did I care? I guess losing someone you hate was like losing a pimple that has been bothering you for a long time ––– once you finally popped it and it's gone, you feel the pain and wished you still had it. Because when it's still there, at least you wouldn't have to deal with the annoying scar.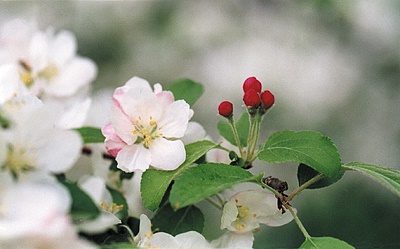 © April P., Newark, DE