The Visit
MAG
September 12, 2009
Dad gave me a wink, like we were pals or something. I wondered if that's how he picked up barflies, batting his big brown eyes at them and jerking his head toward the door. I turned away as dramatically I could in the small car, crossing my arms and legs and scooting to the edge of my seat.

I rested my forehead against the glass, my seat belt rubbing my neck. My sunburn was starting to peel. My nose itched, so I scratched it. I rubbed my eye and my fist came away purple and black. I tried to count the trees as they whizzed by, but they blurred together into a green-brown smudge. I only got to one. One giant tree.

Dad reached out toward the radio but paused. I could see him thinking, his eyebrows pulled together like caterpillars sharing a kiss. A happy caterpillar couple. He pulled his hand back and placed it deliberately on the wheel. I rolled my eyes. Trying to postpone the inevitable Q&A session, I switched it on myself. An earnest country singer yodeled on about love and life and grandma's apple pie while, suppressing a cringe, I smiled widely and tapped my foot at little behind the beat, avoiding his eye. I knew if I didn't like it, odds were he didn't either.

As much as I hate to admit it, we do have a lot in common. Silly things like ordering pizza with pineapple but picking off the slimy pieces of fruit before eating it. We hum when we brush our teeth. We used to make bets on the weather or the score of football games or how many times a politician would say "ummm" or "uh" or "like" during a speech. We'd pay each other in buttons or pocket lint, whatever. Then there's my hair. Our hair. Most people would call it brown, nondescript, but it reminded me, marked me. I hated it.

I hummed cheerfully, off-key, as he squirmed. Abruptly he shut the radio off with his big hands, hands that always looked dirty. I had seen him scrubbing them for at least five minutes once, pumping lemongrass soap into them and scratching at them. The water kept getting hotter, his face redder, but he kept them under, and the steam fogged the mirror so I couldn't see his face anymore.

"So …," he began vaguely, but trailed off.

"So," I answered. I picked at the pink band-aid around my finger. I hadn't cut myself or anything. I just liked how it looked, big and bright. It was starting to itch. I ripped it off, stuffing it in the dashboard compartment before he noticed.

"Can't believe how tall you are, kiddo," he rumbled, following his carefully constructed script of fatherly affection. "How old are you now, 16?"

"Fifteen," I answered curtly, even though I knew he was just trying to flatter me. I had gotten a card from him that October. There was a short, cheesy poem inside. It rhymed "special day" with "in every way." He had signed it, large and narrow, each letter rising to a sharp point. Maybe there had been a note too, but I don't remember what it said. There was a big orange frog on the front, wearing a party hat. It had been smiling. Not a nice smile though, and its tongue was outstretched to lap up a small purple fly.

His fingers drummed on the steering wheel, his lips pursed like he was whistling. Suddenly he turned toward me as if someone had whispered his line to him from behind the curtain. "How's your mom?"

"Fine." And she was. She still sat for hours in the big armchair she had dragged out onto the lawn, smiling around the pens she clenched between her teeth when she was thinking. Her notebooks were still filled with as many doodles as stories, clumsy starts and swirls and the occasional duck framing a short little nonsense poem.

Once I sat for at least an hour studying a small box Grandma had brought back from India, rearranging the wooden puzzle on its base before the pieces fell into place and the lid sprang open. The journal inside contained a single page, on which was scrawled the word someday. The other pages had been torn out.

Glancing at me, he smiled, all crinkly around his mouth and eyes, like smiling made him older. "Like what you've done with your hair." I had cut it short, shorter than I liked even. It just reminded me more of him. It fell across my eyes when I laughed or shook my head, and I had found myself brushing it away like I had seen him do in old home videos. Now it grows close to his head, but I still see him reach up when he laughs and sort of strokes his face, forehead to ear, like it was still long and he was still young and sitting under a Christmas tree with his thin gray robe and yellow socks as I name my new doll Anne – but Anne with an e, I insist, with an e.

"I'm thinking of dyeing it," I blurted out, blood rushing suddenly to my cheeks. I had been, but I hadn't meant to say it, not like that, all cold and hard like Anne-with-an-e's eyes had been when I got mad at her and pried them out with a spoon. I had held them in my hands and cried, "Sorry, Anne, I'm sorry," and Dad had scooped me up and sat me on his lap and bet me two pieces of string and an acorn we could put her back together again.

I still keep them in my jewelry box, next to the two blue eyes.

I stared ahead, sightless, listening to him breathe. I picked at my nail polish, pink flakes drifting onto my jeans. I brushed them off. I thought I could hear his heartbeat. Maybe it was mine. I didn't turn.

I wish I had. Wish I had laid my hands on his, big and brown on the steering wheel, Sorry, Dad, I'm sorry, and tried to put us back together.

I turned away and counted the trees.

One.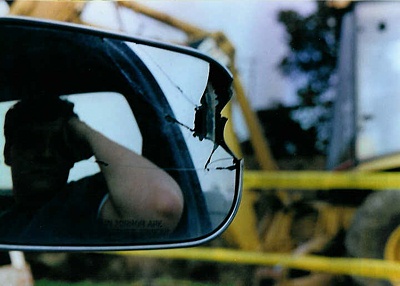 © Matt M., Ponca City, OK