Empty Hallways
September 20, 2009
The hallways are empty. From this way forward they will always be empty. Empty of reality. The hallways are filled with life. They walk around helplessly. Some hop up into their hubbies' hands and others stand there around all day and flirt. Some walk slowly, some walk fast. Some actually care if they are late to class, the others don't. The girls could walk around all day showing cleavage. The boys could walk around all day showing their muscles. They have no life.
I made my way through the crowd. Through the crowd, you'd think I am going to class. No. I don't care. I don't care about school, I don't care about friends, I don't care about life, god dammit, I don't even care about death. Weird, right, that's what everyone says about me. You can hear their whispers.
''Hey is that the girl that beat up Cicley? She gave her a black eye!"
"Look, holy c***, it's that girl that ran away from the cops!"
"Hey it's the girl that just gets up and walks out of school! Dude, that's sweet, wish I was like her"
I shook my head. If any of these stupid, stupid people had their minds in the right place, they would crouch away from me with disgust. Flinch every time my shoe hits the floor. But...no, they stare me down until my feet reach my destination, the main door for the high school. I stood there for a second, hesitating. I don't want to go home. I looked at the main street; two cop cars were making their way down to the school. C***. Double c***. I forgot that they had to escort me home. I have about exactly 30 seconds to start running. I waved at the cops and smiled by best "Aww, look how cute she is." smile and started running. Back in middle school, the track coaches begged me to join the team. I can still hear their voices.
"Please June, we want you. We need you.''
I smirked, no one wants me, let alone needs me!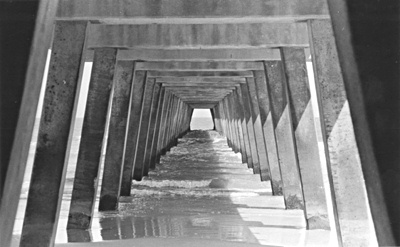 © Megan S., Marblehead, MA