What I Can't Say
August 7, 2009
"But like, seriously, she is so pathetic. Why does he even…"

I lay my head down on the fresh green grass and stare at a single blade. The wind gently lulls it towards my nose.

I am only vaguely aware of the person next to me droning on about something that is so minor, it is barely worth the wasted words.

I watch little black bugs crawl up the little green sprouts and think about how little they are compared to the world.

Then I think about how little I am to the world. And how little this other person's problem is.

Such a big world filled with such little things.

I flip like a fat walrus onto my back and stare up at the clouds and the ocean blue sky. I watch the clouds swirl in and out of each other. I catch phrases of what the other person is saying and nod as if I am listening. As if.

I flop back onto my stomach and push my nose into the earth. It smells like a soccer game. Like cleats digging into the soil, running after a ball as if it's the only thing in life that matters. It smells like spring and fall mixed together. I imagine being in the middle of a match. I picture drizzling rain, my favourite soccer weather. I picture the sun trying to crawl over the gloomy clouds. I picture me, shooting the ball over everyone's wet heads. Past the defence and then brush over the fingertips of the keeper. Then I hear the ball hit the netting. The "swish" like you hear in basketball. Then the clap as the ball hits the ground and so does the goalie.

Clap! on my leg. It leaves a crimson handprint.

"Katherine, are you listening?"

I look up at the person, my clouded eyes very apparent. The person wants me to say something. I wish she would tell me what she wants me to say. It's hard to say anything when you don't particularly care for the subject that the person is talking about.

I watch five different emotions shove their way onto her face.

Jealousy.
Frustration.
Impatience.
Agony.
Incomprehension.

But I don't get a chance to say anything because the person gets off the grass and stalks off. She doesn't even look at the grass. Or the sky. Her eyes are open but she is looking at an image in her mind. She's looking at a picture of the person in her problems.

She doesn't even see what is here because she's looking at something that isn't there.

I touch the flattened grass that marked where she was sitting. It tries to poke back upright. But it can't because she has pressed it so far into the ground under the weight of her problems.

Which she doesn't realize, is nothing compared to the weight of the world.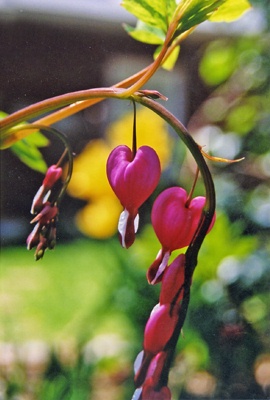 © Sophia E., Wilmington, DE