Stupid Yellow Hat
July 2, 2009
This place is dead. As I wander aimlessly about the campground it seems to me I am the only one here, marooned on my own little island of isolation amongst the sea of RV's and camping trailers. Every once in a while the sound of one of the staff mowing grass or doing some other such job reaches my ears and I wonder why they bother. There's no one here, and I seriously doubt they would be doing all this work for my benefit. Maybe they are ready to deal with the total loss of business here. Or maybe it's all the people who still have to pay for their lots even in their absence. I will never know. Maybe it's the economy that's keeping people away.

It wasn't always like this. I've been coming here my whole life, and our camper sits comfortably in the middle of the grounds on a cul-de-sac. We were a tight-knit group, and everywhere you could walk there was a friendly face. But not anymore. When neighbors did come they stayed inside and left after one or two days. I left that to the fact that it has rained every night this June, and now the rainy streak was running into July. But it only really rained at night. I had yet to see a day this year that was free of clouds.

I said I had been wandering aimlessly, but I did indeed have a set purpose in mind. I had invited my best friend Sam, practically my sister, to spend the weekend so maybe things wouldn't be so dull. I was going to run in front of their car so they found the right camper. But I was taking my time, walking in a seemingly aimless zigzag along the rocky dirt road that led into camp. There was no guaranteeing when they'd get here.

I sat on a big round rock at the entrance near the bulletin and put my arms around my knees to wait.

The bulletin was a dry-erase board on an easel that told of upcoming events at How Kola campground. There used to be a new message every few nights, but it hadn't been changed since I got there. It said, "Bingo Saturday Nite!" But I bet Saturday would see a dismally small crowd at the pavilion.

I remember when I used to go to bingo every other Saturday. You could get two cards for a quarter, but a few diehard old ladies were always playing six or seven. The prize would be all the money collected from people buying their cards. I never won, in all those years, but now the prize would probably be only a few coins. Not even worth it.

Once, when this place was alive, the smell of campfires were always in the air. But the fires are doused and as the years wore on my grandparents made them less and less until finally we didn't have any at all. It was too wet this year anyway.

I remember about three years ago when my cousin, Kelsey, was up for a whole week. Those were the days. We tramped around the camp like we owned the place, chasing the ducks, hanging out on the monkey bars. We even saw our first ̵ and only ̵ blond squirrel shinnying up the hazelnut tree in the next lot over. I remember when the sound of hazelnuts hitting our roof was a friendly sound, like a song late at night. Now it sounds lonely.

Distractedly, I watched a slimy yellow make his way across my rock, leaving a trail of slime behind him. When he had disappeared over the curve of the rock I heard the rumble of a car driving slowly over rocks. Finally.

The speed limit in the campground is only 5MPH, but by the time we reached the camper I felt fat and out of shape. But Sam didn't laugh. Dancer though she was she always understood me, and I her, part of what made us such good friends.

As soon as her suitcase was squirreled away we were off on a tour of the camp. I showed her Snob's Knob, the open area at near the entrance where all the rich people camped in their fancy RV's, with the park, the pool, and three of the seven ponds that ringed the entrance. I didn't know anyone here, nobody did. The middle section was dubbed retirement village, where I was, because everyone there was old. I wondered aloud if any of them were still alive because I hadn't seen anyone besides Harriet. The bottom area, with the remaining four ponds in a straight line stretching from one side to the other, was called Pow Wow Grounds because it was where all the parties were. Not so much anymore.

As we were looping around the biggest pond, a solitary golfcart, the means of transportation here, came bumping down the road. It was the only one I'd seen occupied besides our own this year. We stood to the side to let it pass.

It drove straight through a huge puddle that happened to be right in front of us, dousing me and Sam from the knees down.

Sam only knew one word in Japanese 'Kuruma' car, so she couldn't understand the stream of profanity now issuing from my mouth. I was even shocked at myself. Sam's eyes got wide; even if she didn't understand, she understood my language wasn't exactly sanitary.

I'm not Japanese, I'm Western European all the way, but I'm addicted to anime (Japanese Cartoons) and wanted some day to be able to watch them without pesky subtitles.

I was running out of curses and had begun to splutter when I said the first thing that came to my mind. "Anata wa baka hiiro no boushi!"

You stupid yellow hat.

"Kuruma!" Sam finished for me and we started to walk away.

"Let's go to the pool," I said, "We'll have it all to ourselves."

"Yay!" Sam exclaimed and started skipping along beside me. . .splashing in all the puddles.

Stupid yellow hat.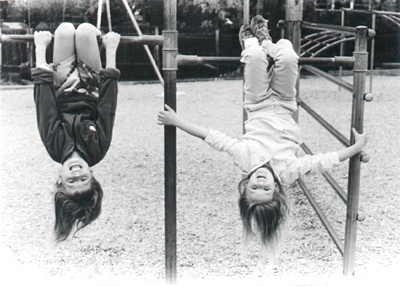 © Danielle W., Marblehead, MA