The Decision
February 27, 2019
The New York City sun was blazing and no amount of air conditioning could help ease the discomfort from the scorching heat. The numerous buildings rose tall above the treelines in Central Park, looming over the bumbling streets filled with crowds of workers dressed in gray and black suits, scrambling to be on time for work.

Peter walked out of his house to get brunch and buy groceries as he always did. He was a young man, dressed in a loose, white t-shirt and basketball shorts that framed his slim body nicely. He was strolling about the streets, easing his way through the crowd, jamming to his favorite songs blasting through his earphones, while politely saying "excuse me," to the people he was passing.

Upon his usual route to his favorite restaurant, his joyful prance came to a stop when he smelled a faint trace of smoke carried by the warm wind. He took out his earphones and looked around to see if anyone else was alarmed by the stench. He noticed others with cringes on their faces and their noses stuck up in the air. The crowd began to slow down as more people stopped at this foreign smell. Fire trucks raced by with their sirens blaring and Peter, along with the people around him, started to become worried. There had not been a big tragedy in New York City since 9/11. Rising even higher in the sky than the buildings, he saw thick, black smoke starting to cloud the blue skies. In curiosity, Peter headed in the direction of the smoke to find its source.

His heart was racing as the acrid smell of the smoke intensified. As he got to the plumes, the crowds became more condensed with the onlookers that wanted to find out what the closer commotion was about. When the clouds of smoke were finally directly above him, Peter saw a huge building in flames, starting to crumble down to ashes. He pushed and squeezed through the crowd to get to the front to be able to better assess the extent of the fire. When he finally emerged in the front, the big red flames were licking the sides of the walls and columns of fire shot through the roof.

When he finally was able to shake himself out of a state of shock, he saw a sign that said 'Moving Company'. The roar of the flames and cries of bystanders paled in comparison to the torment that settled in his heart. Peter's brother was scheduled to deliver a shipment that day.

Peter found himself on his knees. He used his ashy hands to wipe his hair off of his face. His physical shape had deteriorated, but his appearance was nothing compared to the war that was taking place in his mind.

"I have to go in."

"Imagine living the rest of your life knowing that you let your brother die alone in a burning building!"

Tears began to stream down Peter's face at the thought of his brother entrenched in flames.

"Don't be a fool, you can't go in, you'll leave your mother without her only two sons."

"True, I don't even know if Ryan is in there."

Peter regained his wits, and called his brother on his phone… straight to voicemail. The voices changed to flashbacks of the time when Ryan saved Peter from drowning in a rip tide. He began to gasp just like he did when his brother's hands pulled him from the depths of the ocean water.

"I have to go in!"

His wobbly legs had just enough energy for him to stand. His walk turned into a jog which turned into a dead sprint to the fiery flames. As he took his last breath, he felt two strong arms wrap his body and take him to the ground. Peter closed his eyes in relief, he had no more fight left in his body.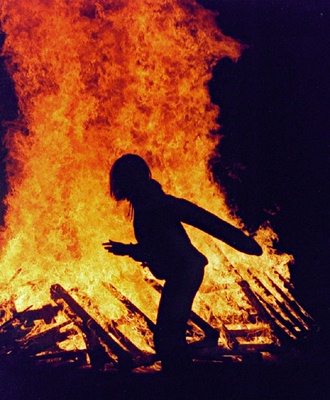 © Hali S., Robinson, IL