Hetalia - India's Story
July 29, 2013
Namaste, I am independent India. I broke away from England a long time ago but I still miss him. He always told me that I was his favorite little colony. He still does. But how come he pays more attention to America? I was so loyal and faithful to him. I stood by him for as long as I could. He was like a brother to me. No. He was my brother. My big brother.



We were happy. America wasn't with us yet so I had big brother all to myself. He would tell me stories about his many great kings and queens. He taught me to do many things and I taught him many things as well. He was kind to me and he protected me for the most part. England and France did fight over me a little bit. But it got sorted out thanks to my big brother's intelligence.



But after many years of friendship, he began to turn away from me. He ignored me.



He found someone better, richer, bigger than me.



America.



I liked America. He was kind to me as well. But I didn't get to see him very much. We didn't play together as much as we would have liked to. We were so different.



England spent more and more of his time with America. And at first I didn't mind. I liked being on my own for a while. I could think about my history and my future. I have always been a peaceful nation. I liked solitude and silence. But I also worried about my big brother.



I watched America grow up and so did England. But they never saw me grow up. I remained pretty small for the most part but that was alright with me.



America became a big, strong nation. I saw him singlehandedly lift England's car once. He ate the food England cooked for him (heaven help him) and listened to his stories. I was ignored. Even flying mint bunny seemed to like him better than me.



I decided that I would be better off independent. So I rebelled. I didn't dare hurt him or anyone else. But I wanted freedom.



My people were few in number compared to the large British army and we were poorly equipped. After that failed attempt, big brother kept a close eye on me. I was fine with that. It was the first time he had paid attention to me in years.



But once I had quieted down, England turned back to America. I saw them laugh and drink together and make fun of each other. And I heard them talk about me when they thought no one could hear them.



I decided to try for my independence again. But I would protest peacefully. England was my big brother but he treated me like his servant now. I am my own nation and I deserve my independence, no?



But I had to wait. Something had gone horribly wrong.



America had separated from England and become his own country. "Country of the free and brave". That's what I heard him say once.



I was happy for America. But England looked crushed. I knew he went off to war but I had no idea it was the Revolutionary War. America left our house and I only saw him very rarely after that. He was still friends with England but I could see it pained him.



Now I had big brother all to myself. But England seemed distant and cold. He grumbled a lot and ordered me around. I didn't want to add to his misery so I obeyed his every command. He would sit by the window with a book in his lap but he wouldn't read it. He would gaze out into the distance. Sometimes I swear I heard him crying a little bit. He would come home exhausted from his World Meetings and ask me to fetch him something to eat or drink. He would mumble things in his sleep about taxes and wars. But he looked right through me whenever he saw me.



Time passed and he soon recovered from his depression. I tried being kind and offering sweet words but he waved them away. To think that a few years ago, this country called me his favorite little colony…it seemed like a dream now.



He did what he always did. He argued with France, he disagreed with America, he polished Busby's chair, he practiced black magic, he burnt his scones (which tasted horrible) and he still couldn't hold his liquor. But he didn't remember me.



This time I would gain my independence!



I marched up to my big brother, England, late one evening. He was seated outside our house in the garden, sipping from the cup of hot tea I had made for him (upon request, of course. I had stopped doing things out of kindness for him. He was capable of getting his own tea).



"Big brother," I said, sitting beside him.



Of course, he didn't hear me. It wasn't that I was quiet. I wasn't at all like Canada. It was that he chose to ignore me. I called out a little louder.



"England!"



He jumped, spilling hot tea on his trousers. He clicked his tongue and scolded me for "sneaking up on him".



"Get me some towels, India." He said. "Quickly, now!"



I stood my ground. I got up from my seat and faced him, folding my arms.



"Don't just stand there!" he shouted. "I said get me some towels, you dummy nation, you! Ouch! Hot, hot, hot!"



"No," I said, softly. England had never hurt me before but he looked like he was ready to kick me to another solar system.



"What did you say?" he asked, leaning forward.



"I said no."



"India, what on earth's the matter with you!?"



I took a step forward. But my confidence shattered. I looked away as I spoke quickly.



"England, I know you've taken very good care of me and I'm very thankful for the kindness you've shown me. You raised me as your own and you taught me many things that I shall never forget. You've been patient and forgiving and I couldn't ask for more."



I stopped for breath. This was harder than I thought. Maybe I should have just started a war like America did. But I didn't want to break England's already broken heart. But would he really care? A few years ago, I would have said "Yes" without a doubt. But now I'm not so sure.



England, surprisingly, looked speechless. And I hadn't even gotten to the worst part of declaring independence yet. He kept quiet and stared at me as though he just remembered that he left the stove on…for several days.



I took a deep breath and continued.



"But you should know that I have my own kings and queens and my own history...although most of it involves you. But it's mine all the same. I'm tired of you using me as a servant and ignoring me when you don't need me to make you tea and clean your shoes. Don't you remember when I was very little? I am still little but I'm bigger now! But you haven't noticed, have you? The minute you claimed America as your little brother, I was forgotten. Even after he left, you failed to remember me. You're my big brother too. I'm not jealous or anything, I just don't like being in your shadow. So…I am claiming independence. From this day forth, I am no longer your little colony. I am my own country! My own nation!"



By the time I had finished my little speech I was trembling and holding back tears. I really didn't want to hurt him. But I needed my freedom. My people were suffering and I had to save them.



I tried to soften the blow.



"It's not that I don't like you or anything. Please don't take it that way. I just…want to be free."



England sat as still as a statue, hardly blinking. I stood rigid in front of him, eyes averted, barely breathing. After a long while of silence, I was about to walk away. But he stopped me in my tracks.



"India, wait a tick," he said. I whirled around, elated that he finally remembered and noticed me. I didn't care if he was going to give me a beating or punish me. He noticed me!



I suddenly felt bad for Canada.



"I don't understand," he said, getting up and approaching me. "You…you want…independence?"



I nodded.



"But…goodness, have I been mistreating you?"



I was unsure how to answer this. He wasn't exactly abusing me in any way. But he ignored me and bossed me around. I told him this and he looked down at his feet, rubbing the back of his neck.



"I…I'm s-sorry, India."



My eyes widened. I never expected an apology. He cleared his throat and spoke softly, kneeling down to meet my gaze.



"India, I admit that I haven't been very kind to you recently. And I'm very sorry. It was all that nonsense about America declaring war so suddenly. I wasn't prepared and it caught me by surprise. By the time I had realized what was happening, he was gone. And you know I liked him very much. I raised him."



I suddenly became furious. I spoke through gritted teeth."Yes, but you raised me too. You raised me FIRST. You said I was your favorite." By now tears were streaming down my cheeks. I didn't hold them back. I wanted him to see how much he had hurt me and how much I had ignored my own pain for his sake.



He sighed, placing his hands on my shoulders and squeezing gently.



"I know," he said. "I know. I let myself get carried away and I'm sorry for that too. But if you stay with me, I promise to never forget you ever again." He smiled, making my stomach sink and my heart break. "What do you say? I'll make you some scones, we can play chess...we can even visit that quiet country you like so much. Who was he, again?"



I hiccuped, "C-Canada."



"Ah, yes. That old chap."



He pulled out a handkerchief from his pocket and wiped away my tears. He placed it over my nose and said "Blow." And I blew so hard into it I thought I blew my brains out. He wiped my nose and kissed my forehead.



Just like he did when I was his little colony.



Whenever I felt ill or had a fever, England would sit by my bedside all night. He would sing me lullabies and read me stories until I fell asleep. He would monitor my breathing and check my temperature every so often. And he would make me laugh by making silly faces and cracking jokes about the other nations. Mostly about France. Whenever I coughed he would come running with a flask of hot water, concern in his green eyes. I always warned him to stay away from me. I didn't want him catching the bug I had. But he always told me he'd be fine and that it would be worth it as long as I got better.



But when America came into the picture, England only told me to be quiet when I sneezed.



But I couldn't do it. I wanted freedom.



"No," I said. England frowned, tears forming in his green eyes. But then he forced another smile. His voice cracked as he spoke.



"Alright, then," he whispered. "I suppose every bird must leave the nest someday, eh?" he sniffed, still smiling his watery smile. He was the saddest I had ever seen him.



"I can't believe I'm losing two children so soon."



I hugged him tightly and said "But we can always been friends. You can come visit me and I can come visit you and if you ever need a place to stay, just come to me. I won't ever forget you, big brother."



When I let go, I saw that he was weeping silently. But he was still smiling and I could tell it was for my sake. I tried to smile back.



I ended up grinning when I remembered something.



I turned around and began to walk away. But I stopped halfway and turned around. I yelled back at my big brother.



"Also, if you ever feel like your food is inedible, come visit! I can teach you a thing or two about how to make food that people actually want to eat!"



I heard him chuckle and I laughed.



Then I turned and ran to my freedom.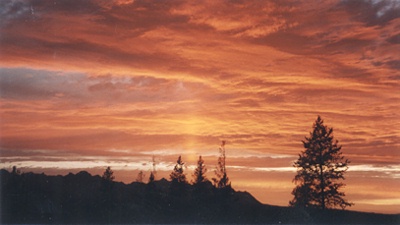 © Katy B., Challis, ID