Just Dance
January 16, 2009
The buzz of the dryer rang behind her as she walked out of the wooden door in an outfit she only wore because her favorite jeans had been wet. Deciding that changing wasn't worth it, she continued down the front steps, nearly tripping on the last. The wind caught hold of her curly hair and ankle-length skirt but she did nothing to control them.

Suddenly music filled her head as she placed in her ear buds and her heart began to beat along with the scattered melody. Her body swayed along with the rhythm of the notes as she counted them off to herself. Above the streets, the sun was shining and several auburn leaves skittered across a crack in the sidewalk only to hit a nearby fence. She glided into the park, still absorbed and giddy.

The world was her stage as her slender arms wove delicately through the air. Her legs were precise in each movement from endless practice. She touched the ground lightly with pointed toes and ended with a deep pirouette as the last sweet notes hung in the air.

Her coda was over, never to be seen by anyone for she lacks the strength her injury stole and, though she dreams of such wishes every night, she knows it will never come true.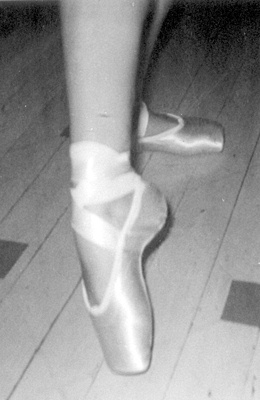 © Amelia B., Philadelphia, PA