A dream I had once...
January 12, 2010
He sat on his bed. The lights off. The full moon shown in a square on the old rug across the room, casting the whole room in the blueish light it has to offer. He was exhausted; he ran his calloused hand over his face, wiping tiredness out of his eyes. He didn't want to sleep. Sleep meant dreams. Dreams meant he would see, smell, taste, experience, her again. Which was absolutely wonderful! but dreams of her never lasted. When he woke, when every memory came back to him, he choked. Couldn't breathe. Tears ran freely, didn't matter anymore. Crying made him no less a man. Nearly thirty-two, clearly, he was a man. A man still so deeply in love with a woman who was now just the ghost of his dreams, his memories.

Was it his imagination, no, hope, that maybe he felt her with him at times? That possibly she hadn't left him yet?

Sometimes he heard her voice, how it sounded when she would sing while arranging wildflowers in the vase on the table on the rug across the room. He remembered the way she would hold a handful of sunflowers, and lilies(her two favorite) in her hands while spinning around. Her retro-multi-colored summer dress billowing out around her legs. Flowing like water.

He knew, as he sat on his bed that night, that she was in fact there with him. Her beautiful olive toned skin glowing in the blue light. He was sleeping-dreaming-for this couldn't be real. Could it?! He stared at her, trying to soak in all of her that was gorgeous, which, in all honesty, was everything about her. Her hair, her eyes, her blue summer dress, her bare legs, her small, full lips, the shadow of her eyelashes, the way her hand rested on the bed. How can someone be so, so breathtaking? he asked himself.

Her lips turned up in a smile. She was truly stunning.

He reached out a hand, slowly, wanting to cup the side of her face in his hand. A look came into her eyes then. A gleam of something so deeply understandable, that he stopped. Her eyes gave her away, as they often had before. Devastated. A single tear made its way out onto her face as she shoot her head 'no'.

What? He didn't understand. He reached out to wipe the tear away. When his thumb should have made contact with her soft cheek, he felt nothing. She was gone.

She was gone.

She was gone.

And he was left staring at a single drop of water on his finger, his arm still extended out to where she had previously been sitting.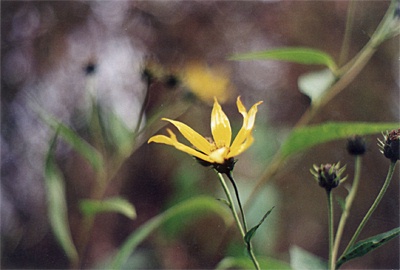 © Scott R., Casco, MI