Lost on Nikolaustag
December 16, 2009
In a small cottage in Eastern Germany near the Catle of Bitzvalde, a small family was preparing for the holiday season. The children each took a pair of boots outside in front of the front door, smiling as they imagine the treats that will fill them upon morning time. Tiny Toni can just see plump ol' St.Nicholaus sprinkling cookies and candy into his shoes! He can't wait!


"Come on children, time for bed," their mother called from inside.


"Awwww," the children moaned in disappointment. "Can't we see St.Nick?" Toni asked, curiosity leaking into his voice.


"No! You know that," Jenna told him a a matter-of-factly tone.


Scarlet walked in with her chin in the air. "If he sees you he won't leave treats, just a bunch of birch!"


"Oh," he sighed in disappointment.


They all trampled into their tiny bedroom and cuddled close together. Scarlet and Jenna were gone within seconds. Toni was not so easily persuaded to sleep. With only seconds of decision, he grabbed a blanket and coat, and hid behind a bush in his front yard, waiting for St.Nicholaus.


In the morning the children were so excited. But the parents were worried. They couldn't find little Toni! Where could he be?


The father went door to door throughout the neighborhood asking for any information concerning the whereabouts of his son. By noon, there was still no information. The family went home sadly and unwillingly. Around three o'clock there was a knock at the door. The father answered it hopefully. There stood three noble guards.


The guards moved slowly aside and forward stepped the king. Toni was standing next to him grinning widely. "Did St.Nick come?" he asked. No one answered.


The king lightly pushed Toni inside. "A neighbor came to the castle and told me he was missing. Earlier this morning he was found at my doorstep. I decided to bring him home, it is the holiday season!"


The family bowed, "Thank you your majesty." The mother and father hugged Toni and they all went inside to eat treats. While they enjoyed the treats, another knock interrupted them.


Toni opened the door and gasped simultaneously. The whole family gaped. "St. Nicholaus!" the children shouted.


"Hello children." He turned to the parents. "Hello, Mr. and Mrs. Gregor. Early this morning I was leaving a house when I saw your boy sleepwalking through the town, it was very cold so I decided to carry him. The problem was, I hadn't a clue where he lived. He was wearing so much, a hat, a face mask, earmuffs, mittens, a giant coat," he paused to chuckle. "I couldn't recognize him! I had absolutely no clue who he was, so I took him to Bitzvalde."


"How did you know where to find me now?" Toni asked.


"News travels quickly. When I heard it was curious little Toni, I hurried to your home!"


"Thank you, St.Nicholaus!" the parents shouted happily. Together the family, and St.Nicholaus, lit the first Nikolaustag candle.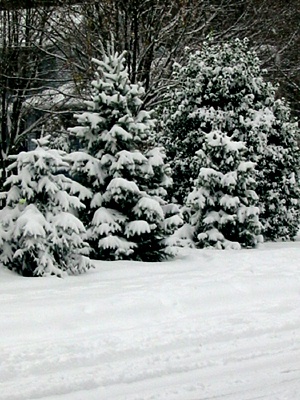 © Kristen S., Sewell, NJ