Last three seconds
April 30, 2015
 There were three seconds left. Only three seconds on his watch and the bullet would hit. - Jack was waiting for this day for many years. Finally he could visit his father. He put on a pair of blue jeans, a red t-shirt and most importantly, his new  watch. Jack got into his car and stopped at a gift shop.
  He decided to buy his father a perfume. The shop was so quiet until he saw people running frantically in all directions. He was taken aback by the scene. Everyone was screaming. Jack was paralysed. He was already sweating. "BOOM!" someone shot a bullet. Jack looked all around him, he didn't know what to do. "Sit down!" somebody shouted. Jack swallowed hard. Everybody sat  with their trembling hands over their heads.
  He gingerly lowered his heavy knees to the ground. He couldn't hear anything but his and the people's heavy breathing. Seconds later, three black figures appeared. He couldn't see them clearly through his watery eyes. Jack wiped his clammy hands on his pants. Get out of here, screamed his mind. He started running. "Stop there!" barked one of the figures. "BOOM!" another bullet was shot. Everyone screamed. Jack stopped. He was only a few inches away from the door.
  "Give me what you have!" roared another figure. "I don't have anything,"stuttered Jack. Run, scolded his mind. He started running. He turned around and bit his lower blue lip. Did he make a mistake? He saw a bullet coming straight towards him. The whole world seemed to stop moving except for the bullet. He could only hear his heart pounding inside his chest and the ticking of his watch. Then he glanced at his watch one last time......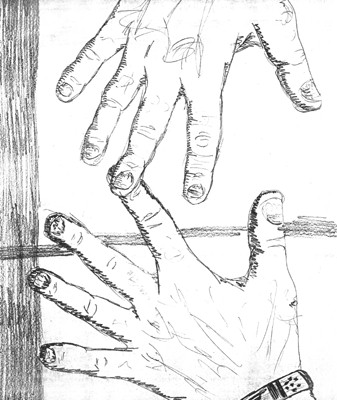 © Katie T., Hull, MA