Sky (not the whole story)
July 2, 2012
My name is Sky. This is my story.

I took a deep breath of fresh, crisp air. It slipped down my throat and into all the branches of my lungs. I felt relaxed. This was the one place that I could be relaxed and free to be me. I wasn't alone. I haven't been alone since I was twelve years old. Others may say I've been alone my entire life, but I don't see it that way. I have Fire.
Fire has been with me since she was first born. She has long black hair that brushes her ankles as she walks and flows behind her as she runs. I remember when she had short little tufts of hair and could barely walk at all. She's completely black except she has three small streaks of red and one long streak of red. She also has one long streak of silver. She's only five years old but she is very fit and strong. I suppose I should also mention that she is a horse.
I found her alone in the forest, barely even born. She looked half dead but somehow she pulled through. I raised her on cow's milk. Nearby was a farmer with more cows than he could handle so I milked cows for him. In exchange, they fed me breakfast every morning and I got some milk. I used every last drop of it for Fire. She's been my only companion ever since.
I wiggled my toes in the cold running water. I was sitting by the creek that ran though my clearing. I had discovered this clearing about six years ago by accident. I was only eleven then and don't remember very much before that. It's almost as if someone erased that part of my memory.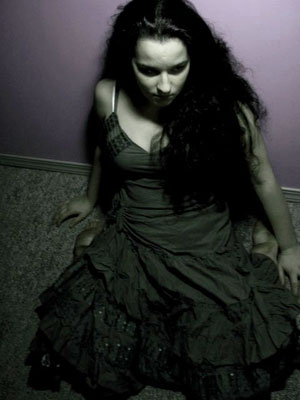 © Brianna D., Everson, WA