Mysteries Of A Forest Chapter 3
November 19, 2010
As me and Nick trudged on, I got the feeling I was being watched. Stalked even, heck, I thought some animal was ready to pounce. I was biting off all that was left of my stubby nails.

I sneezed real loud.

"Uh-oh!" Nick yelled, "DUCK!" He started to run. "If it's just a duck, why are you running?" I asked. "Ha-ha. JUST KEEP UP! RUN!" Nick yelled. I wasn't even trying to be humorous. I started to run.

That's when I heard it.

The thumping, it got closer. The snarling, it got louder. I did not even dare to look back.

I knew what was following me, even if it may be imaginary.

It was alive. It wanted lunch.

I was the prey.


Nick was right by my side as he darted off into the bushes with me. I followed him throught the pointy maze.

"Almost there, soon..." He mummbled. I didn't dare to question him, I was more afraid of the beast following us.

"JUMP!" Nick yelled. This part was a blur, all i saw was wind rushing past me. It was as if I was falling to my death. I landed right on a soft bed. "What the hell!" I shouted. I was in a giant tree house. Aparently, i landed in the bedroom. Nick wasn't as luckly, he landed on the roof. Oh, ouch! I thought quickly.

The giant, black, tigger-lion bear-sized beast was trapped up at the top of the ledge. Oh great, that was following me.

I'm doomed.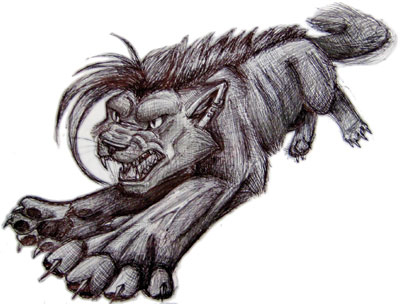 © Louisa L., Pleasanton, CA