The Red-Eyed Devil
June 23, 2010
I need blood and death to survive. I was born with a disease never heard of by man. Every night, I have to kill someone in a bloody death. Tonight, I'm gonna take you with me on my killing spree.

As I walk through the streets, I pull up my hood. People like to take my picture after i've killed someone. My eyes are scarlet, like blood.

As I'm walking, I hear a couple fighting. When i look through the window, I see the man hitting the woman. He does it as if he has done it many times before.

I wait for the woman to leave before I walk into the apartment. The man is asleep on a La-Z Boy recliner. I grab a knife from the kitchen and walk towards him.

I slice down both his arms and both his legs. he finally wakes up when i retrace those wounds with the knife. The sent of blood fills the air all around me.

Right when he starts to beg me to save his life, I stab the knife straight through his heart. Those lifeless eye stare at me accusingly. When I walk out of the building, I see the guys wife.

As I'm walking down the sidewalk, I hear his wife scream. She must have seen his body. When I am about half way back to my house, a man jumps out of the bushes. He has a camera. I throw my hand over my face just as he snaps the picture. He got one of my eyes.

I can't wait to see the papers tomorrow! I'm probably on the front page! My life's dream! I get to be in the paper as a freak that kills to live. Great. Why couldn't I just be normal?

They say God works in mysterious ways. I'm learning just how mysterious on how mysterious those ways can be. I wish I didn't know.

So, now you've been through a typical night with me. Creeped out? I would be surprised if you weren't. I got over the shock after I grew up enough to realize that this is my way of life. I'm just not shocked anymore.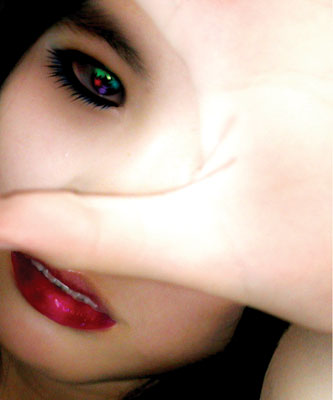 © Victoria W., Arcadia, CA