Easy A
December 5, 2010
It was actually a good movie. Not some crappy teen show which makes you gag half way through. Witty dialogue throughout and it features a pretty strong lead. Based on the novel The Scarlet Letter by Nathaniel Hawthorne, the movie is about a high school student, Olivia who was previously invisible to the world (weren't we all?). She gets the attention she kinda wants when she fakes losing her virginity. To be clear, she told her best friend and was overheard by the Queen of Clean of the school who blabs to make sure Olivia "feels the pain for what she has done". But Olive relishes the attention and goes on to make herself a bigger spectacle until a point. So she starts a webcast to finally tell the truth and come clean.

Sure I gave away the whole plot although it was obvious from the trailer, but this is still worth the watch. My only criticism is the "holier-than-thou" character Amanda Bynes plays is a really far stretch from how actual Christian girls are. And a far cry from what Christianity is truly about. We are not taught to shun the sinner for we are all sinners. I'm slightly bitter that she stands for my faith and yet portrays what I believe in in a completely wrong way. But its a movie and they do blow things WAY out of proportion. hrm.

I do love seeing the Olive's relationship with her parents. Its open and honest, something I think would be good for anyone. Parents are the only people we have sometimes when it comes down to it. They'd do anything for us, even take a bullet as Olive's father says in the movie.


The movie does have some questionable content language wise (as in the content of conversations). NOT something you want your kid sibling to watch with you unless you're ready for strange questions about male and female parts. and how babies are made.

The take home message from the show is basically the classic "don't believe everything you hear" and to not give in to peer pressure. Just because everyone expects you to do something wrong or something you don't want to doesn't mean you are required to. I know that is such a cliche line but really, I have done that. I have lied about doing something or having something just to impress others. In the end, it does bite you in the butt. I know it is fun to just let loose and pretend that you're different than who you really are or even change so other people will think better of you, or even just think of you, but be who you are. A little exaggeration may seem harmless sometimes and it often is… but just be careful of what you do or say.

So anyway, watch the show. Emma Stone is probably one of the hottest young actresses now ('hot' being the term used to describe 'popular' and not physically attractive though she is quite pretty) and throwing Penn Badgley hurts no one.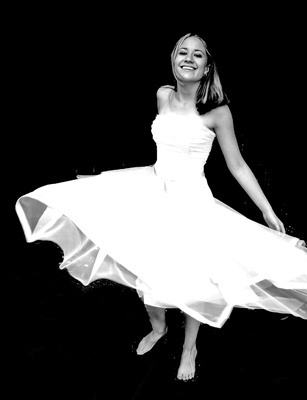 © Kara S., Walnut Creek, CA