The Hate U Give - A Book Review
February 14, 2019
The Hate U Give by Angie Thomas is a heart-wrenching, endearing tale of a sixteen-year-old girl, Starr Carter, who goes through a traumatic experience when she witnesses the fatal shooting of her best friend, Khalil, and has to learn to be brave and use her voice for good, no matter the risks.
For years, Starr has been trapped between two worlds – the poor black community where she and her family lives and the fancy preparatory school that she's enrolled in – which have caused her to hide who she truly is from both sides of her life. However, when these two worlds begin to collide after news of her best friend's murder breaks out, Starr has no idea what to say, how to act or who to be and she'll have to learn to push past the exhausting process of trying to hide who she is and to just be Starr as she stands up for herself, her late best friend and the countless others who have suffered from the toxic impacts of police brutality and modern racism.
I didn't quite know what to expect as I opened this long-awaited novel but, after devouring the first two chapters, I could already get a sense for the style, rhythm and humor of this book.
Needless to say, I fell in love with it all.
The detailed characterization, more-than-casual exchanges of dialogue as well as the dialect and slang used throughout this novel really adds a sense of depth and realism to this story and makes the reader feel like they're actually there with Starr, through thick and thin. Another element of this novel that stood out to me almost immediately was the usage of present tense and this also lends to the realism of the story as it feels like Starr is giving the play-by-play of her and her family's unfortunate predicament.
When you open this book, be prepared to be utterly thrusted into Starr's world and into the traumatic experience that leaves everyone – including the reader – absolutely shaken. Because the shooting that this whole novel is centered around happens towards the end of Chapter 2, I was a little put off by the rate at which everything was moving.
But we've only just met Starr!, I wanted to scream at the book.
And that might've been true, but the way Angie Thomas proceeds to beautifully unfold Starr's backstory while simultaneously diving headlong into the current situation convinced me to hold my tongue until the book was slammed shut and put down.
Angie Thomas's unique writing style combined with the reality of the vital issues that are discussed at length over the course of this novel resonated with me as I tore through page after page after page. While the ending may not be the "happy ending" that we're all so very used to reading, the stage at which Starr – as well as the rest of the beautifully fleshed-out cast - is at in regards to character development makes for a pretty satisfying ending and it causes the reader to wonder what they can do to unapologetically stand up and tell their stories, just like Starr does in this inspirational and honest tale of loss and hope.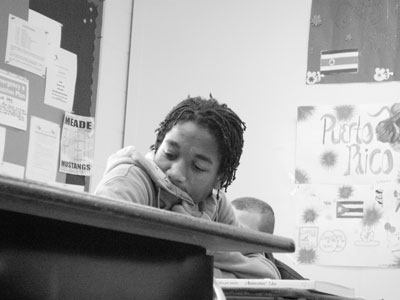 © Demetrius A., Ft. Meade, MD