Love Enduring
November 13, 2009
as she walks down the path

she is dragged onto memory lane

seeing faces from her distant past

who today no longer look the same

here, the tree where he first carved their names

there, they paused on their walk home and he kissed her in the rain

in another time but this same place

she would enter a room and search first for his face

now, though many years have gone

she remembers suddenly the night he wrote her a song

sneaking to each other's houses and laying in his arms all night

he was the first she would run to if she suddenly had a fright

as she passes their old hangouts and remembers the good times they had

deep in her heart she is suddenly sad

she stops in her path with a hand to her heart

and the years fall away as if they never were apart

as she sits on the hill where they one let time pass by

her head is on her knees and she suddenly cries

she knows now that she loves him still

laugh at her if you will

still crying she stares at the ground

looks up with a start at a sudden sound

"do i know you miss?" he says to her

standing there...staring at her

his face seems to change as she tells him her name

whispers to himself "she could not be the same..."

she looks at him now and imagines him as a young boy

when they were young at the sandbox, reaching for the same small red toy

"sir, i think you are the one i came to find"

"yes" he says, "i remember you from another time"

they sat there for hours, talking and wishing they had more time

after a long silence he looks at her, "i know its been years, but tomorrow is valentines day...would you be mine?"

she smiles at him and says the first thing that comes to mind

laughing and crying, this time in joy, all she can say is "yes!"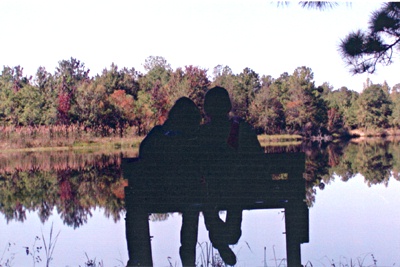 © Heather J., Slidell, LA