Like Everyone Else
April 2, 2013
I don't know myself anymore
I don't know who I am
Or what I want
Or even where I belong.

And I guess I'm just like everyone else
Like every other girl.

I can laugh and talk like any other girl
Though sometimes it's an effort.
I can fake smiles too,
Just as well as any of you.
I can be like everyone else.

Still I got what I need,I guess
As everyone says
Great grades,even a few friends.
And I don't know what i'm missing either
Just that I'm missing something
That I need something more.

I don't know why I feel so alone
Why I have to fight away tears
Why I can't face myself in the mirror.
I don't think I know anything
About anything anymore.

They told me to try
And fit in
I could be
Like everyone else
Like just any other girl
And I tried.
See I'm here
I'm just like everyone else.

I can fake a smile
To disguise who I am
I can blink away the tears
And be things I'm not.

And I can look ahead to the future
But I'm scared about what it holds
Nothing to scare me...
But I'm scared of this life

This life of being like everyone else
Of fighting who I am
Of fake smiles and blinking away tears.

I don't know if I want to go back
And then maybe I could find what I'm missing
But I know those days are gone
They won't return ever again.
And I need to look ahead.
Look forward top something safe and bland and grey.

But trust me I'm ok
I won't shatter like glass
All over the floor.
I'll try to find that me I've lost,maybe
Or maybe, I'll just morph into everyone else.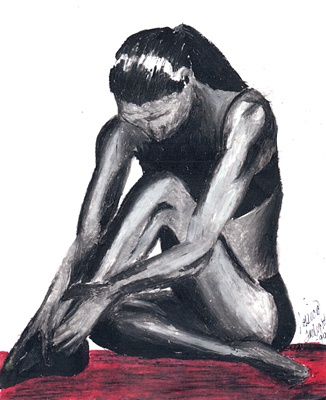 © Jessie Y., Ahwahnee, CA