Library Love
December 19, 2012
There I was, a nerdy college kid at the library
with some textbook brains, a coffee cup.
Calm as a clam, but when I saw you staring right at me –
Girl, I couldn't have told you which way was up.

All my facts and theories never led me to expect this.
It defied reason; it defied space and time –
Love at first sight? Preposterous!
Yet right away, I knew I had to make you mine.

Didn't sleep at all that night, just stayed wide awake,
scheming and theorizing and hatching a plan,
thinking about what a great pair we'd make –
Me, the future Nobel winner and my lovely, silver-haired librarian.

The sun came up, rising with my hopes –
I raced to the library, smiling like a dope.

Grabbed a book, made my way toward the circulation desk,
heart a-flutter, mind buzzing with doubt.
Wanting you to see me as cool, not a pest,
I summed up my nerve and the words came stumbling out:
"You must be a hot read, 'cause I'm checking you out!
My facts and theories never prepared me for this –
Defying reason, defying space and time,
Love used to strike me as so preposterous!
But now I know better; now I need you as mine."

You didn't even glance up; you didn't say a word,
gave no indication of whether you concurred.
To be rejected like this just didn't seem right.
I walked away with such crushed hopes of being your lover,
but when I opened my book, what sweet delight!
In careful handwriting, your number scrawled on the inside cover!

My facts and theories no longer mean a thing –
Who cares about reason, space, or time?
My life is so splendid
with you by my side.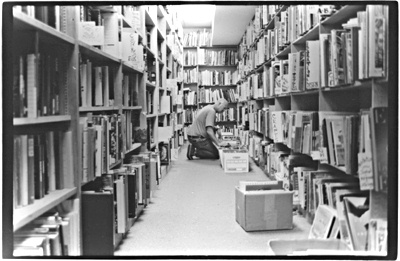 © Benjamin K., McLean, VA