White Horses and Blue Plains
November 14, 2009
The sun warmed the rough dry ground as I watched the white horses run across the blue plain.
The crystal sky was enchanting and the view was truly insane.
The beach is beautiful in the morning, as quiet as can be,
I grabbed all my things and headed out to sea.
The walk was not long, only a minute or so,
I gazed at the sky with its summer glow.
I laid out my towel and took in the view,
As I was looking at the waves, someone came into view. It was you.
Your eyes were covered by your sunglasses and your hair by your hat.
You said you had called me and wondered where I was at.
I laughed and said, "You're always so curious."
You smiled and said," I just want it to work between us."
Then you took hold of my hand and pulled me towards the water.
I tried to refuse, but you only pulled harder.
We then fell into the water and ran beside the horses.
Laughter filled the air along with raise voices.
You took of your hat and handed it to me,
As you jumped in a wave as you swam more out into sea.
I laughed and followed you without a care,
You could have taken me anywhere, I wouldn't have cared where.
We got out of the water and sat down,
You asked me if I wanted to head into town.
Though I loved the beach and I wanted to stay,
I decided that we had had enough fun for today.
So I gathered my things and got ready to go,
As I walked, I could still feel the wave's gentle flow.
As we walked hand in hand towards the car,
I knew that my beach wouldn't be far.
I would visit again as soon as possible,
For me, not loving the beach, it's simply impossible.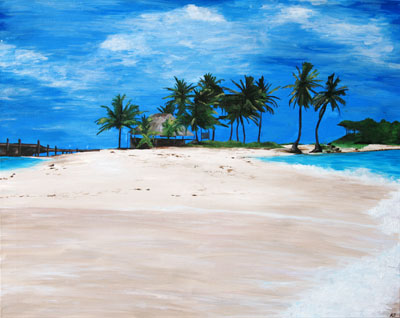 © Karen S., Norwalk, CT