The Ant in The Sink
April 29, 2018
The Ant in The Sink is a courageous ant. He struggles and writhes in an attempt to rise. The slippery Sink is a long a difficult climb for him, and its toll is great upon The Ant.
The Ant in The Sink is lonesome and forgotten. The Colony is far behind, and the curious Ant has discovered this giant, unnatural structure. In the end, it will be The Ant's peril – the House.
The Ant in The Sink is a misfit. His abdomen is a traditional black, while his thorax and head are red – the color of a fire ant. The Ant is one of many Mixed-Bloods, but this one little ant escaped his prison of a colony, and found The House, its death trap.
The Ant in The Sink is barely two centimeters long. It's antennae quiver as it desperately searches for a way out of its cell. The Sink is still wet, and it makes the perfect trap for The Ant, for it can not climb on such a slick surface.
The Ant in The Sink is nearing death. Struggle as he may, The Sink is an unbeatable opponent, and The Giants who torture The Ant, high above, are cruel and harsh – they see no need for The Ant to live, he is just another problem. A problem they enjoying watching die. The Ant is merely their entertainment.
The Ant in The Sink is washed up and sucked down the drain with a swift and brutal chill, and the wave of water pounds The Ant, dropping him roughly down the open hole. The Ant sees life now in a new and unique way, the way of one who is about to die. His short life seems clearer. All the little fights he had, the others he loved, the life he lived – they seem somehow different. As if they have happened to someone else. As if The Ant – our hero who is trapped in the sink, The Ant who is sucked down the drain – is watching someone else's life.

The Ant who was in The Sink died, yes, but he also lived on, in a way, as a reminder of how quickly life flows. The harshness of others has impacted his life greatly, and it's driven him to find a new way of life, which also was his death.

The Ant in The Sink tells us a story, and if You look closely, real close, you can see it.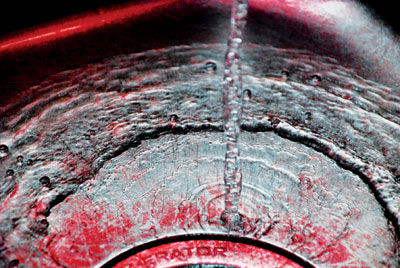 © Hannah B., Princeton, IL