Oh. Oh. Oh.
MAG
September 1, 2017
A child walks down the street. He is blowing
gum bubbles. His father holds
his hand: small palm, small fingers, small creases, small nails.
The child is small. His father is big. He asks his father
why do adults grow forever? They don't.
Oh. What about the trees? They can't.
Oh. Why can't they? I don't know.
Oh. The child walks in small strides.
He wants to keep up with his father, but
he is always one step behind. They stop at
the crosswalk. Walking man. They go.
What if the cars didn't stop? They will.
Oh. What if the people kept on walking? They don't.
Oh. Why don't they? I don't know.
Oh. The father walks a little bit faster. The boy
slower. It's snowing. His small nose is red.
He is cold. His father tells him to be quiet.
Stop asking questions and you will be warm again.
Oh. The child closes his mouth. His lips red.
Peppermint. The child looks up at the sky.
It is gray. He loves it.
His father doesn't notice.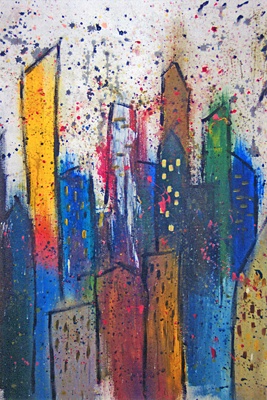 © Chase C., Centerville, OH