The Isolation, the Seperation
MAG
March 19, 2009
Hair is falling over her eyes
A curly brown curtain
Between reality and eyes of sadness
Hiding feelings that her face can't help but show
Wishing it would all go away
Blinking back tears she knows so well
Each drop that falls pushes her farther from the world around her
Tangling her up in these feelings she keeps inside
The unconscious thoughts that she hides
Become her new reality
The emotions are too raw
To share with other people.
He brushes past her
Bringing her back for a moment.
It makes her both long for him and loathe him
In reality, on the other side
One scary moment
Has passed by
Is it safe to pull back the curtain?
Or should she stay hidden?
She starts to emerge
But the vulnerabilty
The defenselessness
Is too much
In case of another tragedy,
Another gust of him
Another wave of tears
She stays behind
She plays it safe
Separate from reality
Although it waits to surround her again.
To engulf and consume her.
Chew her up
And spit out what's left.
So she lets the curtain close again
Taking in the honeysuckle smell
The smell of safety
The smell of isolation
Calming her foolish concealing heart.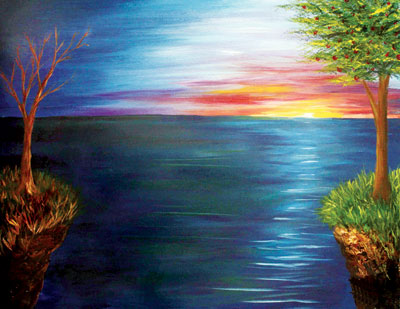 © Ariel G., Moses Lake, WA