Journey of a Blank Page
February 3, 2017
A tender sapling peeped out
From beneath the mass of dried leaves
Strewn on the forest floor.
A tiny beetle climbed up on it
As it soaked in the first morning rays.
The trees were enrobed in vernal wood,
And twilight streaked the skies purple.
Its young companions, now tree-sages.
Witnessing several seasons,
It shelters newcomers from them.
Separated from its ancestral home,
It morphs into a white layer;
Pounded in water and reduced to fibre
To be made suitable for brush and pen,
It now rests at the artist's desk.
It fills with the inspirational energy
Transferred to it through paint,
Pondered over, rubbed and re-done
And left beneath the messy table,
It gazes out the blurry window.
Now confined to the solitary,
Cobweb-infested dark space
Where a single spider weaves
A glistening mass of aspirations,
It offers rest to dust particles.
A breath of wind picks it up
And frees it from captivity
To lay it down upon the moist soil
Where it decays to feed
A struggling young plant.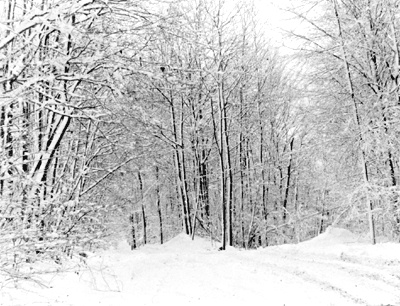 © Thomas S., Portville, NY