You're My New Muse
October 25, 2016
You look a lot like a good reason to write a poem.
You look like there's a fire in your soul that can't be contained for a second longer.
Like the words are beating against your teeth, begging to make their way into the atmosphere.
And the second you open your mouth and let them gracefully fall, lives are changed.
You look a little like the feeling that winter brings.
Like fuzzy socks and hot chocolate and the excitement a child feels when seeing her breath on the cold air for the first time since last year.
And after the excitement of the cold wears off, you're the epitome of warmth radiating from a fireplace in a home full to the brim with love.
You look as though mending brokenness is your profession.
Like a soul, longing to have its lesions sewn and bones reset, never being able to find its rest until it feels your selfless hands.
And you come to the rescue, always knowing the perfect remedy (and having plenty of ointment).
You remind me that love is meant to be shown, more so than said.
You remind me of rebellion, in its purest form.
Like forbidden love that forces itself to be felt.
And even the rush of adrenaline that comes with being discovered.
You remind me of new life.
Like your heart shed its old, ragged, abused lining, and is now a new shade of red. A shade so bright it emits its light out of your chest.
And it doesn't remember what it is like to be hurt.
You remind me of love in its uncontaminated, deep, most pure form.
Like you found the real meaning in a Father who can't contain His for you.
And so your heart overflows to share that raw love with everyone you encounter.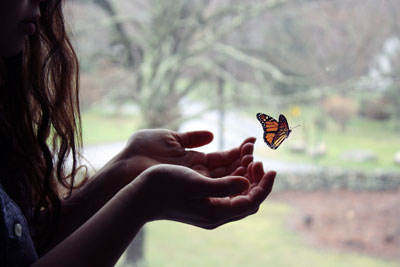 © Sandy H., Woodbridge, CT