unspoken war
April 15, 2016
his eyes were two dangerous seas frothing back and forth, threatening to spill out over the sides at any hostile movements. they swam with tears of rage and disbelief as he watched his only love, his soulmate, his life, being torn away from him in a blur of misunderstanding and jealously. his heart was ripped to shreds under his armor he thought was indestructible, only to find it was the most delicate things that could destroy it.
her eyes were clouded, a fake smile plastered over her face. she thought she wanted his heart to suffer for the things she felt he had wrongly committed against her. but as she looked back at him, sneaking that last glance towards her former lover, she looked through the mask of rage and saw only sadness, oceans and oceans of sadness spilling out across a canvas, a canvas in which she knew every curve, every wrinkle, every place she had kissed him, and immediately fell to her knees, unable to control the emotions erupting from somewhere deep within her.
he couldn't take it anymore. he slammed the door behind her, nearly hitting her in the process. he sunk down and crouched in a misshapen mass, unknowingly mirroring her stance. she didn't know what to say or what to do, her insides tangled up and twisted as she tried to tell herself, be brave. sobs got stuck in both their throats, stopping any breaths from being taken.
unbeknownst to both of them, an electrifying spark was racing up and down their spines, alerting them of the mistake they were making and freezing their tears on their journeys down their faces. slowly, shaking, she stood up and faced the door, eyeing the individual grains of the wood. he copied her actions, and slowly reached his hand out to the doorknob, pausing for a second, then threw it open. they stared, then collapsed into each other and became one of the same person, once more together, emotions calmed and finally at peace.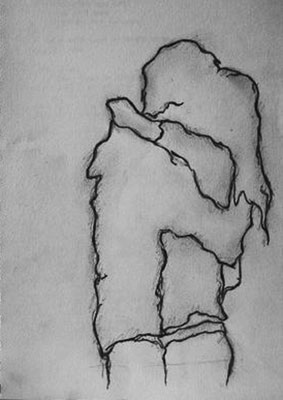 © Nicole B., Newcastle, WA