Unpoppable Warrior
April 11, 2016
Some will crumble with the flick of a fingernail.
Others will consume too much of themselves;
Gluttonous fiends feeding
Until they selfishly break under the warm romance
That marries water to flesh deep in the evenings
When the day will be washed down the shower drain.
He, however, was not one of them.
From his fateful ascent to the surface of my lips
To his tragic slain
He was a warrior which wore thick skin.
His presence was revolting, impressive,
Yet it made me ache.
His hunger for my touch was ravenous,
So he planted himself where he could never be ignored.
He was a grounded mule in the unsmiling corner of my mouth,
Weighted from his existence,
Growing with all I had to offer.
Until him, I never knew how cavernous my pores could be.
I raised my weapon:
Two artificial nails plastered over my own,
Sharp, menacing.
I squeezed until his exterior tore like a knife through canvas,
And so began the battle.
I straddled his exterior with my fingers,
Strangling, warning, suffocating until he leaked.
Little did I know that he had an army.
Chunk after rancid chunk of stiff pus
Rained from his open wound like gumballs flying
From their machines.
Push, wipe, grunt.
Push, wipe, grunt.
Push, wipe, grunt
Until at last, he himself, from his core
Emerged under the accusatory glow of the bathroom lights.
In the mirror I watched as he surrendered,
Oozing from my mouth like a crying child
Slumping to its knees.
I had popped the unpoppable zit.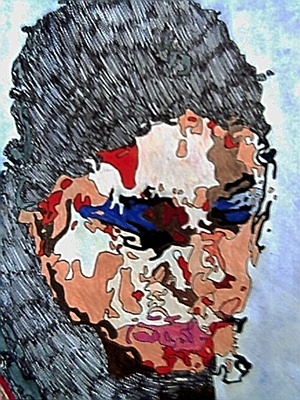 © Sarah A., Morristown, TN