I am my Own Green-Eyed Monster
April 1, 2016
I stand before you, an observer.  I promise no objectivity. Narrator though I may be, the truth is not mine. I envy him who holds it, but know him not.
I constantly wish that I did not have the worries of today. My life goals stretch from limited carbon emissions to enlightenment. If I were blind of discrimination, doubt, and politics, I could breathe easier. I could stop and enjoy the roses, just as I did while young.
One spring day, I, just a sprout,
Laid on green blankets to watch, my sun come out.
Singing my tune, cows over moons and teapots stout.
Underneath, I take in these grasses too.
Younger than I, with soft morning dew,
Tickling sweet nothings to me and you.
Yet, as I think consider this, when was I so innocent to not be bothered? Was there a time where I did not worry for the biggest ideas I could hold in my head? Maybe the idea of perfect innocence, at any age, is harmful. I should not mourn due to my growth.
Wandering mind and simple life,
A thought crosses with strangling strife-
To interrupt peace among my wildlife.
The loving grasses, on them I lay
Could perish and wither, here and today-
I tear sun from life with my Child's Play.
I choose to hold these aimless days close to my heart, but they were not the only days that I lived fully. I still love any field that I can lay my head on. I have since been disappointed by unkempt land, as I don't dare to brush my skin against prickling thorns and withering life.
In class that day among my own sixteen
We fostered life, each holding one slender bean.
I planted my very own seeds of green.
But how did I learn, love, ascertain?
When compared to grass at home, in vain?
As my dear sprout never in height did gain?
So, my love for woods did dwindle
As my sadness for lack of thriving kindle
Hate for friends since my grass is little.
When my pen pushed hard into paper, angry at poor results, it did not change them. My eyes grew while my plant still was behind the others, oblivious. I still cannot laugh at my younger self. Why do I insult myself so? Are my heartstrings woven taught, of greenish grasses, rooted far into the soul and harped mockingly? I grew grass in first grade. My own living thing, from seed to bud to seed.
Envy is a companion that I've known from birth;
Transforms anger from low self-worth,
Rules my view of all the dear Earth.
Of course, it is a natural response to fear and insecurities within oneself, but not in any Darwinian way. Envy is neither healthy nor an effective emotion for such pain. Instead, my mind self-medicates. I mistake confidence in myself for anger, when on this narcotic.
I envy the paranoid, for someone is always listening to them, Listening well.
I envy the beggar, for he can only rise. Rise up, rise up.
I envy the dignified, for they are followed. The meek, for they are humble.
I am envious of those who see the world simply. It fuels their disdain and blames the oppressed. Above all, I envy my future self. The lines in the sand never fade. But I am proud of the northern winds that overcome me. I know that you are stronger, more beautiful, more complete. If the skies are darker there, you have still walked on. The hills of today are in the rearview mirror. Mountains can be climbed with greater confidence.

Yet, there is one thing that our story's little girl staring into the skies should live to see.
Her classroom experiment thrives, planted in the yard around our birch tree.
It thrives through the seasons and gives hope, to me.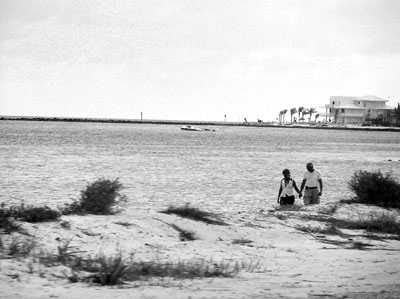 © Edgard B., Coral Springs, FL