On Letting Yourself
November 30, 2015
Because it's supposed to take me a long time
to believe someone
when they tell me they think I'm beautiful.
Because my slurred thoughts,
blanketed in a drunken haze,
are curled in a plastic seat with me
and my too many glasses of wine and chapped lips and
I feel you ask me to scoot over and
with a heavy gulp, I smell your fingertips trace my ribs and
with warmed cheeks and sweaty palms
I can hear your lips work down my neck, taste your back arch under me.
Because in the privacy of my own head space
I let myself feel so released
and, God, I thought about you,
let myself imagine you
instead of who should occupy my mind.
And I let myself
give that small piece of me to you,
give myself to you in that moment
with sharp inhales and escaped moans and heavy eyes
And I let myself.
Because I dreamt that
my feet were suspended in emptiness,
and the water underneath me reflected
the sound of your laughing.
Because someone told me they believed
our souls were fragmented at birth
and our whole lives were deciding with whom
to share the shards
like a bit of glass from a broken family heirloom,
the soul is incalculable and frail and inflicting
and I couldn't not conceive the idea that a piece of mine
was with yours.
Because the sirens wailing outside remind me that
my existence or happiness or maybe the wholeness of my soul,
relies on a faulty idea of togetherness;
as if I could prevent myself from letting myself,
as if I could feel whole-er by resisting,
as if the leaking clouds don't yearn to be heavy with water again.
Because god damn, I know none of this will ever.
And because it will never but all I can f***ing help is smiling at your name on my screen
or nothing.
Because at the end of all of this
I know a soul doesn't regrow and that mourning into an infinite present
won't fill the empty part, but I'm here anyway
because scars only hurt when you're getting them
because tucking your hair behind your ear
means so much more to me than you could ever know.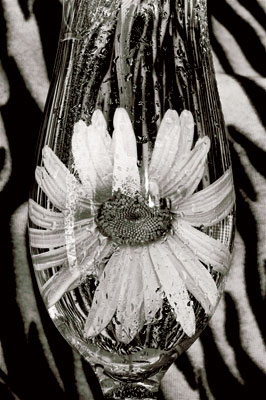 © Garrett M.