Stars Whisper Back
May 30, 2015
I don't know if anyone but
Astronomers and physicists
Go stargazing anymore.
And by stargazing I don't mean
Looking up to see a sky and air pollution
And shadows and blurs and remnants
of what once was utter glory
I don't mean passively looking
And counting;
Which is, though calming,
undoubtedly quite pointless
I don't mean watching and not seeing
I most definitely do not mean
staring into the distance
to conversation's effect
I do go stargazing.
Often with a friend or two.
They may or may not know what it
Truly encompasses
Here I shall put it before you
I walk and walk around to
discover areas where the sky
is by air and light
less defiled
then I lay down whether 'tis
grass or cement
with my head granted quite a view.
A place such where these
Ethereal forms are clear and bright
And winking at me ever so subtly
That
I blush
As I hold them close,
Despite the distance of
A kazillion light years in between,
They make me feel more petite
And for the first time in forever,
feeling small is good.
For I lose myself in their immensity
Like when I was ten and would go to the sea
with my father and we would just stand
and I would dig my toes in deep
to brave a wave
and the Ocean would engulf me.
And all frights and flaws would crumble
And all pain dissolve
And I wonder endlessly,
Introspecting and inspecting.
I don't just look I see,
I don't just see I talk.
Then as I just lay there for hours
whispering my deepest darkest
fears into their fiery hearts
Sometimes I hear them murmur back
Often I do get answers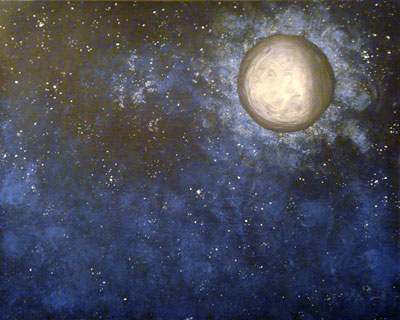 © Allison H., Vancouver, WA