The Decrepit Flow
March 8, 2015
Every day,
Wind or flame,
Snow or rain,
Chill or sleet,
I set a winding course through my neighborhood.
Today, it was warm, and I felt a strange feeling of thawing.
I felt as if, instead of walking at a restrained run,
As if a tidal wave was rising up behind me,
The road was rising up to meet me, and the wind was at my back.
The sun shone warm upon my face, and drops of melting snow fell softly from the trees.
The world was shining with a great and terrible beauty, and I was beholding it all.
I walked to the curb,
Awash with this freedom,
And looked down into the gulch by the road
Above the concrete studded with mica,
I saw a stream of snowmelt washing pebbles towards the sea.
It was a perfect miniature of the sounding surf at a beach,
A gentler form of forever.
I began to breathe at the thought of this freedom. 
The world belonged to me,
And I felt that I could run with that water,
Run to the sea.
The melting snow ran like light from shadow, and it was clear and perfect.
I have been on that corner many times before,
Every afternoon of my life.
But in that simple mirror, I had never seen my eyes so clear,
Flushed with shed tears.
I had been there many times before,
In a life I used to lead.
But that time was a brand new morning,
Of a bright new day,
Like waking up from a deep sleep.
Like waking up from a bad dream,
To a bright new morning.
I gentled the little girl that yet lives inside of me, and whispered;
"I love you."
And after that,
I carried her with me(I carried her in my heart)
And I drew my shining sword
And I met the enemy,
And she was me,
And she was dead.
A part of me washed away in that river of snowmelt,
Like so many used up rags.
I won't miss it too much,
But it will return to the ocean,
Return to the tides,
And tonight I will sleep.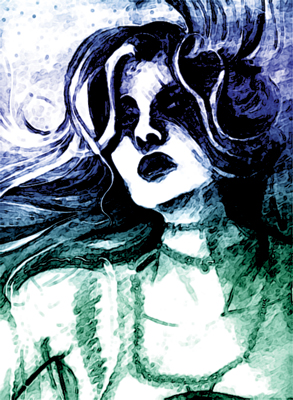 © Sindi J., Westminster, MD