Mirror, Mirror
August 24, 2014
She tells me not to cry.
Whispers "I love you,"
Staring back
With eyes full of hate.

I'm not good enough for them.
She sees that,
When I'm bare
And staring back.

She tells me I am,
But her voice says I'm not.
And at least with her I'm safe;
She's always staring back

Scanning each curve,
Sagging with lightning bolts.
Disgusted,
She stares back.

Eyes closed
She feels all over,
Where it's not quite smooth.
At least she's not staring.

I believe her more
When she hisses "I hate you,"
Voice sifted through gravel
Not hers, or mine.

Hours of staring,
To tell me
What I already know.
She hates me.

Seeing me for who I am
Uncovered in body, and in mind.
She'll tell me she loves me
So I'll let her stare.

How else will I know who I am?
(And what I'm not)
If I don't let her stare.
Who am I,
If not her
And her thoughts.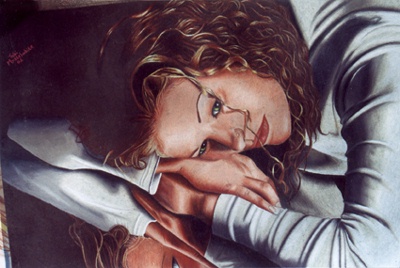 © Tabitha M., Kannapolis, NC