Broken Realities
August 10, 2014
The threshold which leads to where I wish to dwell is sealed. Bewitched to open only for those who carry a full heart.

Across these gates, beyond this wall that stands so strong in front of me, lies a world of shapelessness. Those who nest in that realm are floaters.

I watch behind a veil as the children place their hearts to the wall's face and are then picked up, as if by some enchanted wind, and lifted to the other side.

When I feel it safe to reveal myself, I walk to the wall, steps heavy and echoing through the empty wood.

I run my hand along the stone and then reach inside of me, in search of my heart, but it is long shattered into a billion unrecoverable remnants.

In a twisted fate, I've been banished to exist in a warped reality behind this wall, while the others may live beyond this barrier in a fairy tale.

Water spills from my eyes like fire. Perhaps it is I who lives in the fairy tale whilst all others bide in reality. Perhaps a fairy tale is merely an illusion for a broken reality.

I wish with every fiber of my essence for a full heart. But when I reach inside of me, the organ I crave is cold, petrified just as the stone wall that on, so hopelessly, I rest my hand.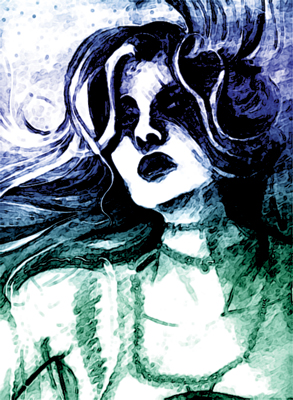 © Sindi J., Westminster, MD