To Be Like Edith
August 9, 2014
The Reader,
forever rising with your lifting pages
and strong, loving fingers
reached her hands forward
into your beauty, and lowered
her skull in deep respect
with unmatched wonder,
her presence still broken
and unclear from the perilous journey.
The disquieted mind of the
dazed admirer floated endlessly
through the sparkling sky
that never quite stayed still.
Her eyes, slightly turned away
from the overwhelming light,
possessed infatuation not yet
heard of, and her face was
as sharp and wild as the body
trapped eternally in the moment of
non existent flight, decorated in
quivering applause beat forth
from thankful underlings that
promised to never tire out.
She touched the ground with
heavy, reluctant soles and
the soil itself couldn't help but
scream that it should be the means of
of an end so ugly.
Now cowardly and relentless,
reality shook itself over
the impossible radiance that
would never belong to him
and the moon eyed girl
was shamelessly hurled
back
to
Planet
Earth.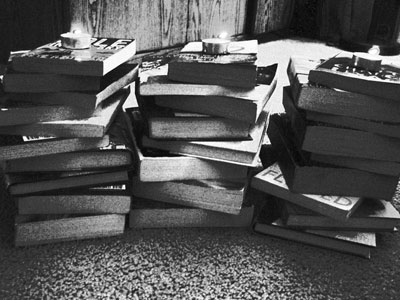 © Alexis R., Clarkdale, AZ