There Was a Child Went Forth
May 15, 2014
There was a child who stepped down every morning,
Down from her princess bed that was two foot too tall,
Onto her blue Cinderella rug, and out of her princess room.

And the first sight she saw, she became.

And that sight stained the insides of her eyelids,
Remaining in her little princess brain for a day or a certain part of the day,
Or for many years after.

Fairytales became a part of this child.

And her father's 3 A.M. footsteps down the hall and the scent of fresh cut grass on Saturdays and the whites and yellows of her mother's garden and the feeling of soil between her toes and the creak of the old porch swing and the ring of spring chimes.

And the taste of salted tomatoes and the heat of the baking concrete in the summer and the pitter patter of dropping water-melon seeds and the melodious laughter of her mother.

And the long-distance phone calls from her father, and the anticipation of his return on Thursday nights and the sight of her parents' embrace.

And the happiness bubbling so high up inside her throat that she giggled a contagious giggle that spread into the lungs of Momma and Daddy and the air itself vibrated with love and she crawled back into her princess bed and dreamed of finding her prince like her mother found her father.

All of this became a part of her.

The feeling of her hand growing into her father's, holding on a little too tight to keep her on his shoulders at the Fourth of July parade, the way her mother clung to his side, and her mouth always smiled and her head never bowed and her crown of Queen never fell.

Then with the passing of days
Weeks
Months
Years,
The child's eyes began to open to the world and its horrors.

How was her daddy so sleepy at 6 o'clock in the day?

Why doesn't her mom ever kiss his cheek before he leaves for work like she always used to?

Where does all the money keep going that makes her mother worry so often?

Why doesn't her daddy ever come home?

And the evil world and its mean people and the drugs created by those mean, mean people latched onto the King and turned him into a fire-breathing dragon.

And the child witnessed this dragon,

And the child was not scared.

She learned where and how the dragon would strike and tried to protect her mother the best she could.

She couldn't quite remember the point in which she realized her fairytale wouldn't have a happy ending or when her King and Queen lost their royal crowns or when her princess bed became just a regular four-post bed or when the roles reversed so that she took care of her parents rather than them taking care of her.

And all the changes of her mother's fairytale changed her own.

Would her prince lie and cheat and steal?

Would her prince stay out too late and do terrible things and leave her wondering how to pay for her castle?

Would her prince slay dragons or become one?

And with that developed all the distrust, the subtle questioning, the mind-tearing curiosity, the too-soon maturity.

There was a woman who stepped down every morning,
A woman who realized the world didn't always have a happily-ever-after.

There was a woman who stepped down every morning,
Down from her four-post bed.
A woman who had learned she was no longer a princess, but a Queen.

There was a woman who stepped down every morning,
Down from her four-post bed,
Onto the cold hard-wood floor,
Conqueror of doubt, Queen of hope, and Ruler of Her Own Fate.

Head up,
Crown secure.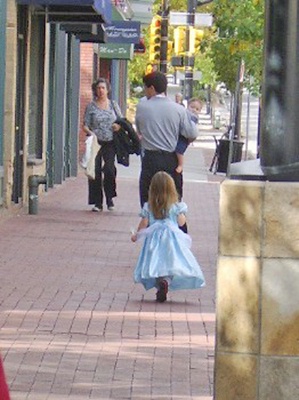 © Kristen T., Tulsa, OK