Unorthodox Tunnel
March 20, 2014
I love you.
He says it more than you realize
with every smirk
The tug at the corner of his lips as he fights a smile.
His poker face could fool the gates of heaven
but his eyes tell you more than he ever will.
The window to the soul.
You've had a glimpse
but you want more.
More than he's willing to give
but you're patient.
Waiting is a skill you've mastered,
begrudgingly, but even so.
He's worth it.
A chuckle from his lips
A twinkle in his eyes.
That's reward enough.
He's more than enough.
Everything's been hazy
but he cuts through the fog
like sunlight.
In a series of storms, he's a bolt of lightning you suddenly don't mind.
You long for the wood-roughted lines of his palm
against your own.
The brush of his thumb over your knuckles.
You long to be his, and him yours.
It's just the way it has to be.
You need it to be.
His happiness is your own.
A laugh from his lips
the sweetest music you've ever heard
There are perks to the breakdown.
At least that's what he told you.
And you an't disagree.
The usual quip coiled on the tip of your tongue
silenced, dulled by the grey warmth in his eyes.
Contrasting with combined with compassion
A yin and yang
you can love
He's more than enough
Perfect in his imperfections
and you can't find a reason to complain.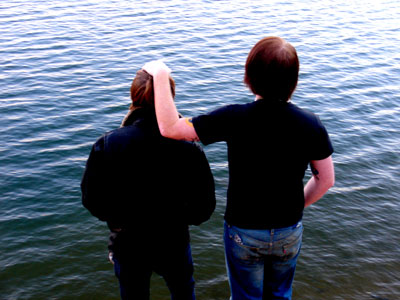 © Michelle B., Blairsville, GA