Miss You
March 17, 2014
It hits me again
As I remember your face
On the day
We gave you away
And it's hard to think.

I know of angels
I know of devils
I know of you and me,
But what comes in between?

Now my eyes water
And my throat constricts
And something in my stomach is heavy.
The last time I saw you-
I don't think I was ready

Not for the dresses
And shoes
And hi-how-are-you's
That are spoken softly
In an floral-carpeted room

Where a coffin stands
And flowers bloom.

People shake their heads
And their hands
And sometimes their lips tremble.
They say that they're sorry,
But who even are they?

She admits to seeing my once
And he saw me when I was small
But I've never heard of a Great Uncle Joe
Or Big Aunt Poe or a- boy is he tall-
I just can't remember everyone.

Then there is you, lying, past ill.
And for some reason I find myself staring
Right at your chest,
Where I expect breath
But instead find everything still.

The world around me, however, spins
Like a top I used to own
Back when I was younger
And everything was much simpler
And you were home.

But your home is up there
Where the clouds are the pillows
And you receive a new set of wings.
Maybe one day, I'll see you up there
And you can push me again on the swings.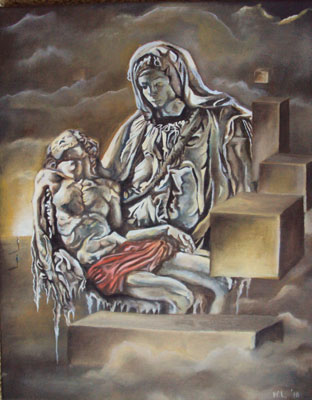 © Winston L., Dallas, TX