My Identity
February 16, 2014
What is my personal identity?

I sometimes like to believe that i cannot be defined

I am a novel,

That is constantly being written.

They are some things that i am very certain of,

One being is my sexuality

and my infatuation with women empowerment.

That is something i know will always remain in me.

I am proud to say that my sexuality shouldnt define the person I am overall,

but it should define my beliefs when it comes to equality, fairness, and societies social construction.

Hispanic and lesbian.

The irony.

According to social constructionism,

I must be very religious

Have to be married before the age of 25

Meet my future husband before i enter college

Be satisfied in knowing that the man will always be in charge

and stay home while watching my multiple children.

Oh the irony.

I'm nothing like those stereotypes

I am more than those labels.

I am me.

And I am proud.

I refuse to let society define who i am,

I refuse to be caged in by what other people categorize me as.

I am a hispanic female

I do not like the idea of conformity

I believe that everyone should build their own identity,

and not allow society to do it for them.

I am a lesbian.

That happens to be a feminist.

I have an outspoken mind,

I am very blunt and honest.

I will be more than a housewife

I will fulfill my happiness by furthering my education

I will travel the world in search of new experiences

and I will not let religious boundaries

or marriage commitments hold me back.

I will be happy

So what is my identity?

I think you have the idea.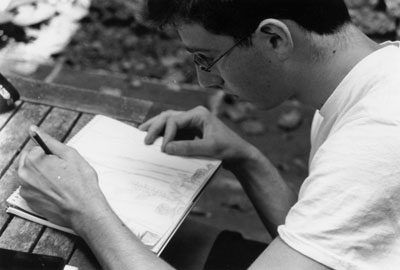 © Kira L., Bethesda, MD