Mirror,Mirror
February 9, 2014
You see before you,a girl.
You watch,wait for her magic to unfurl.
Till you realise,she has nothing to offer.

She's not much to look at.
Her hair will follow no instruction or convention.
Excess flesh clings to her body
At places they shouldn't.
According to the magazine covers.

She was called beautiful,once.
By a boy she thought she loved.
She thought she might be-her
Her without the porcelain skin,or the colossal curves.
To this day,the notion amuses her.
Her,with nothing much to offer.

She writes a lot.
Captivated by the magic that links letters together.
She likes to turn the paper
To a mirror
Of her soul.
Her soul-a blend of tedious thoughts and eccentric emotions.
Intricate,complex...like any other...
Nothing special
Nothing to offer.

At the inside of her wrists,
Her skin is a tad paler
The nerves show,a pale green colour.
That one time she held a blade to it,
Her hands trembled a bit.

And though the skin bled easily,
Taking a while but bleeding all right,
It healed of its own accord.
As if her body was determined to cling on to her,
Hold itself and her soul together.
Even though she doesn't have anything to offer.

She wonders,sometimes,
Why she is alive at all.
Maybe just to walk the world.
Watch the stars,taste dewdrops
And listen to the music in her.
Maybe to spread some smiles,
Only some
If that is what she has to offer.

She is a girl
Nothing special
Nothing much to offer.
Born to a labyrinth,
Which she must manoeuvre.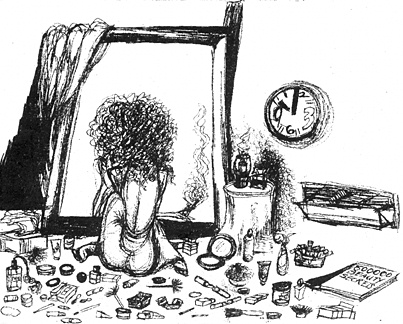 © Asha M., Philadelphia, PA